List Of Fundraising Ideas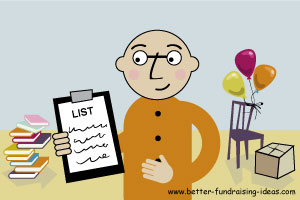 Here's a great list of
Fundraising ideas

This site is arranged into several main sections all with their own particular fundraisers. Please see the navigation bar to the left for the different areas of interest such as schools, churches, charities etc
But of course many of these fundraisers can be easily incorporated or tweaked and used across the board.
Don't forget we are always on the lookout for new ideas. If you know or have used a great fundraiser we would love to hear about it and add it to these pages.
How great is that - your neat fundraising idea helping someone else raise money for good causes on the other side of the world!
So here are all  the best fundraisers just ready for you to give them a go!
List of fundraising ideas (general)

Barefoot Books Fundraising Programme

Charity Walks -With A Difference

Church Hymns - How to use them to fundraise
Fundraising Event Ideas - How to Make Money From Them

Fundraising Ideas For Kids - Teddy Bears Picnic

Halloween Fundraisers - 31st October

Harvest Suppers With A Difference
Rubber Wrist Bands ( Awareness Bracelets )

Simple Fundraising Ideas For The Office

Smencils - A great fundraising idea for kids

St Andrews Day - 30th November

Teacher Baby Photo Competition

3 Saints Days With A Difference

---
List of fundraising ideas (fetes and fairs)


Whether its coconut shies, fortune telling or welly wanging, fetes and fairs are great fun and can be good money-makers. For many organisations putting on a good fete is very important.
If you cannot organise your own fair it still might be possible to take a few simple ideas and use them at someone else's event. Often several local organisations will provide stalls, booths or attractions at a town fair or similar. Or fete ideas may be added to any other fundraiser you had going on.
Below are fundraisers that are perfect for fetes, fairs and any other appropriate opportunity:
Simple Ideas For Fundraising Activities
Count The Candy / How Many Sweets In The Jar

Cow Patty Bingo (and Cock-A-Doodle-Poo)

Treasure Maps and Lucky Squares

---
As well as this list of fundraising ideas this site also contains all sorts of other useful information for anyone working with schools, churches, sports groups, charities and other non-profit groups.
The general information pages contain a lot of useful tips and hints for telling good stories and getting publicity. There are also useful tips about working with volunteers.
New ideas are being added to this site all the time. Sign up to our RSS / Blog Feed to receive up to the minute details of all the great ways you can make money for your organisaton. Simply click the buttons on the left.
---
Could you add to this list of fundraising ideas?
---
Working for a cause you believe in or a non-profit group you want to support is fulfilling and fun. Do not get stressed trying to find the latest, best, newest fundraiser. And certanly do not get browbeaten by the many fundraising companies trying to sell you products.
Instead simply use your imagination and have fun!
---

To leave Complete List Of Fundraising Ideas and return to
The Better Fundraising Ideas Home Page please click here