Fundraising Ideas For Kids 
Teddy Tombola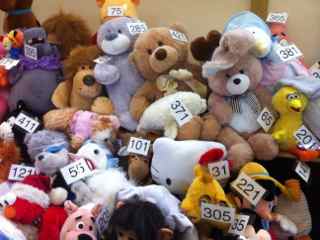 Furry fun at the fete with a Teddy Tombola

When it comes to simple fundraising ideas for kids a Teddy Tombola is hard to beat. It's really easy to organise and run but brings in a surprising amount of cash.
A few weeks before your event put the word out for donations of clean soft toys. If its a school fundraising idea send a note home with the children.
Parents will be grateful to take the opportunity to divest themselves of the overload of soft toys that seem to accumulate in all kid's bedrooms. Or which they have tucked away as unwanted gifts etc.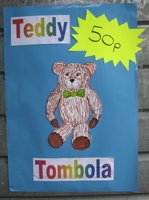 You will be amazed at how many teddies, beanie babies, furry lions, dogs, cats, rabbits and other assorted cuddlies you will accumulate.
Go through the collection and make sure they are clean, safe and the sort of thing you want to have on your stall.
Now here is the fun part / nightmare part depending on your outlook. You need to come up with a name for each one.
Sounds easy? Wait until you're trying to come up with something new for the 10th small brown non-descript teddy! Its time to be imaginative use colours, textures, temperament etc to expand your options and to make the names more fun.
Black Barry, Silky Sadie and Happy Albert are so much better than Adrian, Jane and Nigel!
How do you tell a Teddy's temperament? -
Look into its eyes!           

Write your names onto 2 pieces of card. Pin one onto the Ted (you can use stickers) and fold the other and place it in the tombola box.
Ok if you want you can use numbers instead of names that's ok but ... as a teacher once told me "dull plods get poor marks!"
On the day of your event arrange your Teds in an attractive display.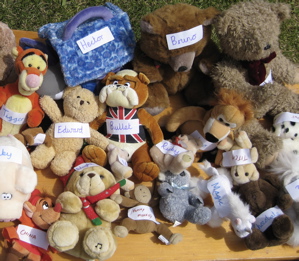 Kids pay to pull a ticket from the box and win the corresponding bear. If you have enough stock it is probably best to do prize every-time. Or have a small stock of consolation prizes for anyone who draws one of the blank tickets you've added to the box.
When we have fetes or fayres we always end up with lots of cuddly toys.
we now make it into a raffle. We stick a name on each toy and put a copy in a box.
Prize every time. Pull a name out of the box and win that toy!
Easy and cheap to do, we usually do very well on this one as we get lots of toys donated and there is no cost to us , other than a piece of paper for the names to go on. We also like to use some names from the scout leaders and put them on the funny looking toys. The cubs scouts think this is hilarious and try to win the toy with a certain leader's name on it.

Real Life Example from Carmen - Scout Leader from Southampton - UK
---
Cheap and cheerful fundraising ideas for kids are always the best

A Teddy Tombola is a guaranteed winner!
---
To leave Fundraising Ideas For Kids - Teddy Tombola
And return to The Better Fundraising Ideas Home Page please click here.