Your Fundraiser Ideas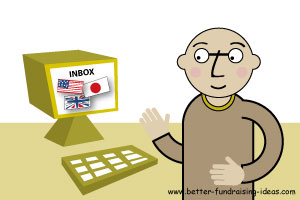 Good fundraiser ideas don't grow on trees
...unless you're selling Christmas Mistletoe!
All the fundraising ideas on this page were submitted by visitors to this web-site. A really big thank you to the groups who have sent them in.
This web-site is used by schools, churches, charities and sports clubs on every continent and your ideas will help people raise money for good causes around the world.
What a great feeling to share ideas and tips with other people who, just like you, give up their time to get involved and try to make a difference!
Your Charity Fundraisers

Senior's Spring / Fall Fair sent in by Cecilia from Nova Scotia

Winter Warmers - sent in by CS from the UK

The Lollipop Game - sent in by Jennifer from Trion USA

Pig, Wig, Jig and Swig Evening - sent in by Carol from Rugby UK

Sponsored Silence (A Classic) - sent in by Becca from Reading UK

Balloon Race With A Difference - sent in by Paul from Wolverhampton

Your Own Charity Drive (When fundraising gets personal) - sent in by Dominic from Iowa

Christmas Fundraiser - Treasure Chest - sent in by Jolene from Maine USA

Dance For The Pets - A Day Of Dance For Charity - Sent in by Leslye

When A Sponsored Walk Becomes An Annual Event- Sent in by Paul from Wolverhampton

Karaoke Fundraiser - Sing For The Dogs - Sent in By Jerilyn Utah USA


Tell Us About Your Charity Fundraisers
---
---
Your School Fundraisers

School Robotics T-Shirt Fundraiser - sent in by Ellen from Michigan

School Stories - Sent in by Suzanne from Victoria Australia

Wine Gift Baskets - Sent in by Canadian School Principal

Chili Con Carne Fundraiser - Sent in by Mary Ann from Florida

High School Fundraiser - Secret Admirer - Sent in by LEI from Kentucky

Metre of Money - Sent in by Calderbank School - Scotland

Jewellery Stall Fundraiser - Sent in by St Dominic PTA (UK)

Mocktails and Canapes - Art Auction Fundraiser - Sent in by Debbie from Canada

Meet The Author Night - Sent in by Chichester Book Club

Fundraising Movie Night - sent in by Anna from Ohio

School Christmas Cards - sent in by Malcolm from Redcar

School Band Fundraiser - Selling Musical Notes - sent in by Marci from Michigan

Sponsored Silence - sent in by a young fundraiser Laurie from Bingley

Sponsored Silence - The quietist day at school ever! - sent in by Joan from Dorset

Variety Show School Fundraiser

Recycle Mobile Phones For School - Sent in by Laura from Buckinghamshire UK

Vow of Silence : Fundraising for Haiti- sent in by Kacie from Canada

School Charity Race Night -sent in by Jill from Portsmouth

Tile Art Wall - sent in by Henry from Sydney

Chocolate Tombola - sent in by Sonya from Cornwall UK

Sweet Raffle - School Fundraiser


Tell Us About Your School Fundraisers
Your Church Fundraisers

One Small Flock Fundraising Cartoon Calendar

Metal Detecting On Church Land (or fields owned by local landowners) - sent in by Terry Reading UK

Church Fundraiser - Sell Umbrellas With The Church's Logo On - sent in by MLD Virginia

Church Fundraiser - Yard Sale- sent in by Monica from California

Church Fundraiser Ideas -Valentines Goodie Box Fundraiser

Kidnap The Preacher

Our Church Craft Fair - sent in by Phil from West Sussex

The Produce Table - sent in by Martin from Lancashire

Money For Old Gold - sent in by Maria

Sewing For Charity - sent in by Fiona

Charity Car Wash Fundraisers - sent in by Jane

Church Fundraiser - Chicken Walk - sent in by Brenda

Tell Us About Your Church Fundraisers
Your Sports Fundraisers

Make and Sell Custom Colored Kukui Nut Leis - sent in by Melissa from Hawaii

Footy Grand National - sent in by Issaac

Tell Us About Your Sports Fundraisers
Your Fundraisers for Fetes and Fairs

Name The Teddy - sent in by Sophie from England

Kids Fete Game - Fish Pond - sent in by A. Landeros from Texas

Mystery Bottle Tombola - sent in by Pauline from Barrow - In - Furness

Stick Tak Toe - sent in by A. Landeros from Texas

Barmy Barbershop Fundraiser

Buy An Envelope

Its A Cracker - sent in by Amanda

Giant Hoopla - sent in by Maisy

Pop The Balloon - sent in by Sharon

The Re-Gift Table - sent in by Mary Ann

Tell Us About Your Fundraising Ideas For Fetes And Fairs
---

To leave Your Fundraiser Ideas and return to
The Better Fundraising Ideas Home Page please click here
---