Individual Fundraising Ideas

(For Those Who Like A Challenge!)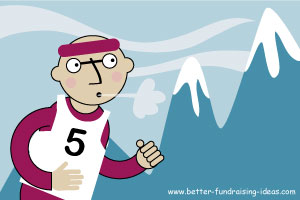 Great solo challenges
And individual fundraising ideas

Individual fundraising efforts can bring in substantial amounts of money. The publicity they attract can also help to boost a charity group's profile.
This type of trial seems to really suit certain people. Sports enthusiasts, adrenaline junkies and others. None of whom seem happy unless they are taking it to the max!
The trick for your charity is to offer them a way to raise funds for you that matches their interests. This might include encouraging individuals or working with an existing club or association.

There are also a large number of unlikely candidates for even some of the most extreme sports challenges and sponsored events. Of course it is this that helps attract money and publicity.
There is not an editor of a local newspaper who can resist a photo of a Bungee Jumping Granny or Parachuting Priest!

.........................................and quite right too!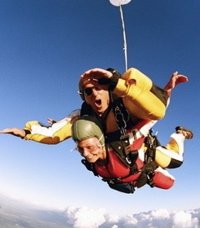 These individual challenges should be either zany, daring, different or be a real feat of endurance. And we have had letters from 70 year old parachutists, firewalking pensioners and iron-men who are undertaking the Marathon des Sables (6 day endurance race in the Sahara Desert)!

So if you are looking to bring a test of endurance or stamina into your life. Or fancy yourself as an all action hero. Or if you work for a charity and want to encourage others to raise funds for your group check out the great ideas below.

Charity Abseil

Charity Bungee Jump

Charity Parachute Jump

Firewalking

Run A Charity Marathon
---
A different way to raise funds from an event - The Snowball Challenge
---
Need help collecting the sponsorship / donations?
Set up an online donation page with JustGiving
---
Better Books for Fundraisers
Check out all the latest books and "how-to" guides.
---
---
To leave Individual Fundraising Ideas and return to
The Better Fundraising Ideas Home Page please click here