A Fundraising Charity Abseil
For Those Who Like A Challenge!
A Fundraising Charity Abseil?
Well you did say you'd do anything to raise some funds!
This is one of those charity fundraisers that appeals to a particular type of person.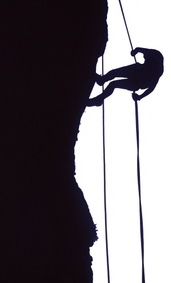 You know the sort - never happy unless they are throwing themselves out of airplanes for a charity skydive or attempting to cycle in places where no cyclist has ever been before!
But abseiling to raise funds for your good cause really is not just something for extreme sports junkies.
In fact the more unlikely the participant the easier it is to get publicity and raise money.
How can the local press resist the managing director of the town factory coming down the outside of his company's building or the cat-mad senior bumping her way over the edge of a viaduct to raise money for her local animal shelter!
So what exactly is abseiling?

Basically its sliding down a fixed rope, usually down the side of a tall building, bridge or cliff face.
The speed of descent is controlled at all times by a friction device attached to a special harness worn by the participant.
How can you turn this into a fundraising event?
Well you ask friends and supporters to sponsor you to take part. The more challenging or unlikely the participant the easier it is to attract sponsorship.
It is also often possible to play up the local angle. Coming down local tall buildings or landmarks will probably make your fundraising efforts easier.
Use a professional charity abseil company
There are plenty of professional companies that will help you with your fundraising charity abseil.
A simple Google search will turn up various options. Shop around however as what they offer varies.
You obviously want your fundraiser to be fun but totally safe. The better companies are very experienced and can offer all sorts of advice prior to your event as well as running it on the day and providing all the equipment and insurance etc.
The cost of arranging an event is not cheap but you need to do things properly. The main cost is in the set up; after which the more people you can get involved the more the price per person drops.
The costs of the event will obviously come from your sponsorship money so do your sums.
The company you choose will almost certainly be able to offer you advice on likely costs and fundraising potential. Many companies also offer flyers, posters and sponsorship forms etc.
The idea also works well around the online charity donation websites such as JustGiving
Find a tall building
The event might be arranged to take place at a site of your choosing. Flat roofed buildings such as university blocks, hospitals etc are perfect if you can get permission. Other options are local bridges or viaducts providing they are tall enough to provide the "dare factor."
Another option that many companies offer, however, is a space for members of your organisation at special charity events that they arrange. This would see your volunteers joining others at a mass charity abseil. Everyone raising money for their own good causes.
Don't look down!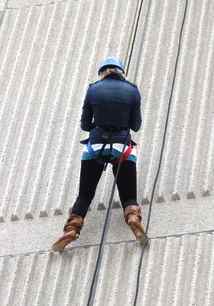 If you are working with a professional company "Going over the top" is actually quite safe. Instructors will check all the equipment, guide you every step of the way and see you safely to the ground.
The advantage for those scared of heights is that you go over backwards and don't need to look down!
Get some good pictures
Make sure you make the most of the publicity surrounding your event.
Good pictures or video footage can all bring in extra cash.
They are also a great way to raise the profile of your organisation or good cause.
Our Charity Abseil - sent in by B G from Perth
We were looking for something a bit special for our firm's annual charity drive. The whole idea started off from a planning conversation where everyone was moaning about not another quiz night and bake sale etc. Somehow we started looking for something bigger and a bit different and before we knew it we had contacted an abseiling company and found a team of volunteers to take part.
Our firm has about 120 staff and we managed to get 15 people signed up. The real coup was getting our CEO involved. She was well up for it and her support meant that we were able to really promote the sponsorship hard within the company.
The company we used were great and set up the abseil with volunteers from 2 other local companies down the side of a well known high building in town. On the day everything was really professional and we all felt totally safe. A bonus for the ladies taking part was that the guys working for the abseil company were really hunky!  It was all great...even the bit where you have to lean out backwards and let the rope take the strain. Afterwards we had a BBQ and a few beers with family and friends of the abseilers where we were able to raise some extra cash.

All in all it was a really good event and we raised a nice sum even after the costs to the abseil company were taken out. As a bonus for the company it also attracted some great publicity in the local press.

---
So don't get tied up in knots trying to come up
with a novel fundraising idea.

Get signed up for a fundraising charity abseil instead!
---

To leave Fundraising Charity Abseil and return to
The Better Fundraising Ideas Home Page
Please click here
---