Fundraising Products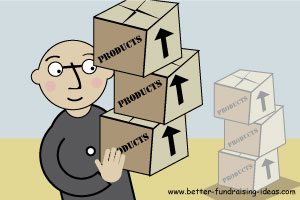 A list of all the fundraising products
Featured in this website.
Product fundraising is not popular with everyone. It does however have its place in many organisation's fundraising programmes.
This might be as:
A stand alone fundraiser - for instance selling candles or cookie dough
An ongoing fundraiser - for instance selling silicon wristbands
As a product to sell as part of a larger fundraising event - for instance promotional products or novelties such as Smencils.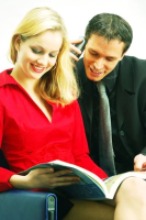 The success and popularity of selling particular fundraising items often comes down to how they are sold.
If you have a good cause and a good product, fundraising this way can be fun and straightforward.
Some companies will require you to buy products up front and offer you wholesale discounts to do so. You make your money when you sell on for your good cause.
Companies will often offer much better prices the more you order. This is particularly true for spirit products branded with your organisation's logo, where a lot of the cost is in the printing set up. Beware however ordering too much stock which may be difficult to sell.
With other product fundraisers you may take orders or deliver catalogues etc. With these you usually earn a percentage of the retail price
Which company should I use?

There are plenty of companies out there trying to sell you their wares.  There is one however that we believe is head and shoulders above the rest.
Good range, simple to deal with, friendly but totally efficient.

Our Recomendation   - Fundraising.com
---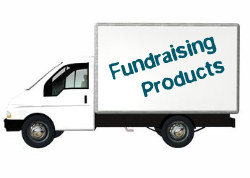 Producing your own fundraising novelties

Most of the fundraising items below are those you buy from fundraising companies.
Another option of course is to make or source your own. For instance a charity we know does a brisk trade in lucky horseshoes. They have struck a deal for old shoes from the local farrier, clean them up and sell them at every fundraising event they can.
There are all sorts of products your supporters could make and sell for you
Ethical sourcing of products


Some companies are starting to source and stock far more eco-friendly products and also those that ensure a fair price being paid to the producer.
We can all encourage this process by using those companies where possible and putting pressure on the others. Simply asking the question flags it as an issue for those who wholesale fundraising products.
List of fundraising products

Barefoot Books

Bulb Fundraising

Candle Fundraisers

Candy Bar Fundraising

Charity Christmas Cards

Church Cookbooks

Cookie Dough Fundraising

Fortune Cookies

Fundraising Buttons / Badges

Lollipop Fundraisers

Magazine Fundraisers

Pizza Fundraiser

Popcorn Fundraiser

Rubber Wristbands / Silicon Wristbands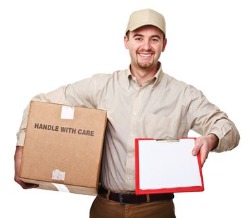 School Calendars Fundraising

Scratch Card Fundraiser

Smencils

Stadium Seat Cushions
T-Shirts (Real Life Example)

Tea Towels

Tupperware Fundraising

Wine Tasting Fundraiser
If you come across a good fundraising product or found a different way of selling something do let us know. We will include all the best ideas on these pages
---
---
To leave Fundraising Products and return to
The Better Fundraising Ideas Home Page please click here
---