Fundraising Buttons / Badges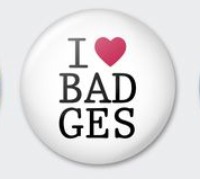 A simple way to get your name out there

Fundraising buttons, or badges as they are known in the UK, are a simple little idea that is often overlooked.
Ok it is true that you are never going to run your entire organisation on the profits from these little chaps. They can bring in some revenue however and have many other uses for canny fundraisers and non-profit organisations.
Types of Buttons

There are 2 main types of button: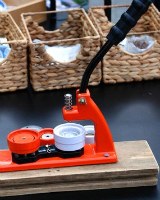 Plastic Pin Type - Like the one in the picture at the top of this page. These are the buttons / badges we all remember from childhood.
A plastic covered metal disc with a paper insert, proclaiming anything from support for a football team or rock band to a witty slogan or funny picture.
These buttons are cheap, cheerful and easy to produce and sell. With a cheap button making machine they can also be produced "in house" by your school, church or organisation.
Enamel Type - These are slightly more "dignified" and can be worn with business clothes etc. Generally smaller they are often a way of showing allegiance to a particular cause, faith or organisation in your day to day life.
Uses for fundraising buttons

As a simple fundraiser - It doesn't come much easier than this. You buy a bulk amount of buttons (or make your own with a badge machine) with your chosen design, text or logo. You sell these to supporters at events and happenings or via stores, your website or mailing list making a small profit on each one sold.
There are plenty of companies who will offer you all sorts of deals and discounts so you need to shop around for the best prices. Buying in bulk always reduces the cost per button but do have a realistic idea how many you are likely to sell. This is especially true if they relate to a specific fundraiser and cannot be sold at future events.

As an awareness raising tool - Buttons can be an easy and popular way to express support for or opposition to all sorts of causes, organisations and views.
Political buttons come out in force at election time or as a response to political events. People like to have a quick and simple way of making a point about the things that matter to them. This might be a long term situation - for instance Anti-Arms Trade or of a much more immediate or local nature such as Save Our Local Hospital.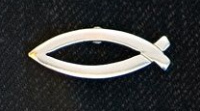 As a way of showing alliegance - This can be related to awareness raising but not always. Its a curious thing but there appears to be some kind of innate need in people to simply show that they belong. That might be to anything from a political group, to a faith organisation, a fraternity or a school choir.
These buttons / badges are often of the small enamel variety.The fish badge illustrated here is worn by many Christians and makes a great church fundraiser.
Team spirit buttons are also a popular way to show support for your team or club.

As rewards - Posh enamel buttons can be a cheap but effective way of rewarding long-standing service to an organisation. Or to mark a particular achievement such as money raised on a particular fundraiser. Different colours of button are frequently awarded to show distinct levels of success etc.

As entry badges to fundraising events - This is a great way of overcoming the "embarrassment" of charging admission to things like fetes and fairs.

As an extra incentive to enter competitions - This is a particularly useful device to encourage participation by children. All entries to the PTA Poetry Competition, Spelling Bee, Sponsored Walk or Football Festival get a free badge etc.

As a stall at a fundraising event or Summer fair - If you have a button making machine, set up a mini "design studio" (felt tip pens, paper and scissors) and have youngsters design and make their own buttons.
---
So there you have it. Fundraising Buttons.
A great way for your supporters to show they care.
---
---
To leave Fundraising Buttons and return to
The Better Fundraising Ideas Home Page please click here