Fundraising Letters
That Get Results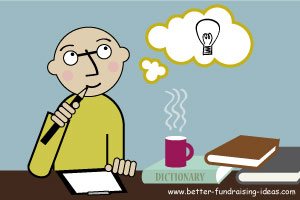 With sample fundraising letters
And templates
Writing effective  communications to companies is often an important part of a non-profit organisation's money raising strategy. This might involve anything from a simple request to a company for a raffle prize, to asking someone to sponsor an entire charity programme, sports team or event.
In all cases a carefully targeted, well written letter is vital. Writing good fundraising copy can be a daunting task for some people. But it needn't be complicated.
The most important thing to remember is -
Have a clear idea what it is you are asking for......and ask for it!
If you are not sure exactly what it is you are after how is the recipient to know? If your request is hidden beneath paragraphs of waffle how will it be found?
If you are writing on a computer you may even like to type "the ask" into your letter first- halfway down the page. Nice and clear and simple.
Then you can put the rest of your brilliant fundraising letter together around it.
So do you know what it is you are going to ask for?.......... Great now here are a few simple rules that will make life easier for both the writer and the recipient.
Target the right person at the right company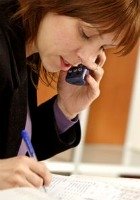 Here is where you need to do a little research.
Find out who it is you need to address your letter to?
Who deals with these requests?
To find out you can ring the company or visit their website.
If you know someone who works there see if they can find out for you.
There are good reasons for doing this:
You look more professional and business-like - a good home for that company's donation.
A personal dialogue with a named individual is more likely to receive a favourable response.
Unless properly targeted your letter may spend ages "doing the rounds of various departments (and it will not be anyone's top priority) until it eventually stumbles its way on to the right desk 3 weeks later!
If you do find out all the correct information don't forget to record it in a contacts folder. It may be wanted again in the future.
Give your fundraising letter a headline

Use a headline at the top of the page to instantly explain what it is about.
This is particularly important when writing to larger organisations who may be dealing with a considerable number of requests from different people.......................you didn't think you were the only group writing to that chocolate company asking for a raffle prize did you?!
A good headline should come above the main body of your letter in a slightly bigger bold font. Keep it short and simple.
Examples - Request For A Raffle Prize or Request For Sponsorship
Tell them a bit about your organisation.....but don't go overboard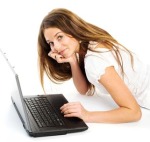 Of course you need to tell them a bit about your group but keep it quite general.
Choose your words carefully -your cause may be the most important thing on the planet....to you....but not to everyone. Use a couple of good descriptive sentences but be wary of "over-egging the pudding".
Do not include detailed facts and figures or mission statements.
Tell the story

It is the stories that will make the connection with people, make sure you are telling a good story.
Find out more about telling stories in your fundraising letters.
Provide good clear contact details for you or your organisation
Let them know exactly who they should contact in your organisation for more information. If this is not you ensure you brief other people about the fundraising letters you are sending out.
If your organisation has headed paper do use it.
If you have a charity registration number put it at the top of all correspondence.
Sign in your own name on behalf of your organisation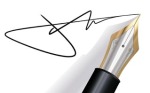 Remember you are trying to build a relationship or at least make a connection. The personal touch works.
One last thing.........
Don't forget the Thank You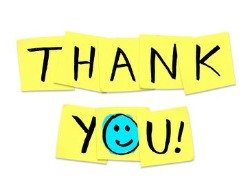 If you do get a good response from your request write them a note to say thank you. Let them know how much you raised and how popular it all was etc.
This is both polite but also makes good sense- you may want to approach the same company again in the future.
Below are some sample fundraising letters that you may like to use as templates for your own campaign:

Fundraising Publicity - Guidelines For Working With The Local Press.
Sample Press Release

Sample Letter - Request For A Raffle Prize

Sample Letter - Sponsorship Request For A Project

Sample Letters - 2 Thank You Letters

Sample Sponsorship Letter for Sports Teams

Sample Sponsor Thank You Letter - For Sports Teams
---
Better Fundraising Books
Check out the fundraising letter writing guides and books.
---
---
To leave Fundraising Letters and return to
The Better Fundraising Ideas Home Page please click here