Sponsor Thank You Letter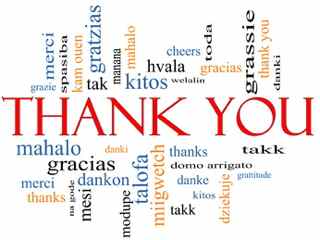 A good sponsor thank you letter
Is an important part of any sponsorship deal.
Your relationship with your sponsor does not end once you have banked their cash. It should be the start of an ongoing exchange.
An important part of this will be keeping your sponsor informed of how well their money is being spent.
And how much you appreciate it.
The start and finish of this is, of course, saying thank you.
Below are two different sponsor thank you letter templates that can easily be adapted for your own team or club.
---

Sponsor thank you letter 1
- On receipt of the sponsorship money

Clancy Eccles
Greenfield Landscaping
Columbaris Park
Loverton
PO88 0HT
Date
Re Sponsorship Maia Lane Angels
Dear Mr Eccles
On behalf of everyone at Maia Lane Angels I would like to thank you for your very generous sponsorship of our team for the coming season. It has really sent a buzz through the entire team and everyone connected with our club. I enclose some photos of pre-season training and a thank you card from the entire squad.
We have received the Greenfield Landscaping logo images you sent through and have passed them on to our supplier of team strips. We should receive our new kit bearing your name next week, in plenty of time for the new season. In addition we have included the logo on the team fixture lists and newsletters which have recently been sent out to all club members.
You might be aware that there is a mini tournament and fun day organised for Sunday 28th August at the Maia Lane Community Club to mark the start of the new campaign. As well as a series of short matches we hope to have some fun competitions and other club fundraisers during the day. If you, or anyone else from Greenfield Landscaping would like to attend you would be a most welcome guest, though we might grab you to present a prize or two!
Here's to the start of a great season. Thank you again for your generous sponsorship. We hope that we will live up to our achievements of previous years. We promise to keep you updated of our progress.
With very best regards

Ken Lazarus
Club Secretary - Maia Lane Angels
---

Sponsor thank you letter 2
- At the end of the season

Clancy Eccles
Greenfield Landscaping
Columbaris Park
Loverton
PO88 0HT
Date
Dear Mr Eccles
What a Season!
We have now come to the end of the season. The last game being a narrow victory over our big local rivals Swetton Eagles.
As you know we have had a season of ups and downs. Our challenge for the league title, which was looking very strong a few months ago, unfortunately could not be sustained. We did however finish in fourth place in a very strong league.
But it is perhaps our stunning success in the inter-league cup for which this season will be particularly memorable. Our outstanding victory in the final being the crowning glory of a lot of hard work and a great year. Thank you again for attending the match and presenting the cup to Taylor Miles our club captain. I hope you enjoyed it all as much as we did. The photos I sent through gave a good flavour of the game and the after match party! The press coverage was great too and I hope you feel we were great ambassadors for Greenfield Landscapes.
The other highlight of the year as far as The Angels are concerned has been the establishment of our new training facility at the Maia Lane Community Club. A lot of parents and others connected with the team put in a lot of hard work fundraising and the training sessions have been attracting record numbers of local kids. It is this sort of community involvement which we think makes our club extra special. There is a special report on the new training facility and an interview with Ralph Barry who runs the sessions, in our latest newsletter which I enclose.
Thank you once more for your generous sponsorship over the last season. Your support is not something we take lightly and is very much appreciated by everyone connected with the club.
Very Best Regards

Ken Lazarus
Club Secretary - Maia Lane Angels
---

One last thing - It is vital to read through and check for typos.
Do not rely on your computer spell checker.
Get someone to read your sponsor thank you letter through.
In particular make sure that you get the spelling of all names correct and write the name of the sponsor's company exactly the same way that they do.
---
---
To leave Sponsor Thank You Letter and return to
The Better Fundraising Ideas Home Page please click here