Sample Sponsorship Letter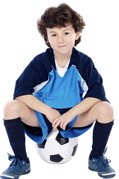 Need a new team sponsor? Use the sample sponsorship letter below as a template for your own sponsorship request.
Successful sports fundraising often involves writing a lot of fundraising letters to a lot of different companies. You can however give your sponsorship request a much better chance by using the sample sponsorship letter below and following a few simple guidelines:
1. Pick a company that has some relevance to your team - This might be by what they sell (ie sports equipment), who they know (ie business or family contacts) or where they are (ie the garage next door to the sports field).
2. Do your research - Find out about them. What do they do? How do they market themselves? Who are the key personnel and managing director or other decision makers?
3. Use your contacts - If you can, approach a company where someone can prepare the ground for you. Nothing beats a personal contact in getting your foot in the door!
4. Know your stuff - Be friendly but professional and business like. Know exactly what you are asking for and what it will mean to you and the potential sponsor. Be specific and know what sum you plan to ask for. You may like to have a fall back position or a range of lesser options but one simple request is usually best.
5. Overdeliver your side of the bargain - Getting the sponsorship is not the end of the deal. Your job now is to continue to help the sponsor feel involved, respected and informed of progress. At the very least a monthly update on team progress.
6. A picture tells a thousand words - Take pictures at every opportunity and send them to your sponsor. What better way to show them what they are getting for their money. Encourage them to use them in their company marketing. Make your team a real part of the sponsor's business.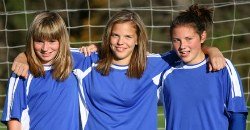 Below is a sample sponsorship letter for a little league soccer team. Use it as a template for your own sponsorship request.
If you have headed paper please use it.
Along with your letter you may like to include additional info as appropriate. Always try to include a selection of photographs too. They help your prospect picture their logo on the shirt of your star striker and, psychologically, there is something about photographs that prevents the contents of a letter being simply dismissed and tossed into the recycling!
---
---
Sample Sponsorship Letter

Royston Alimantado
Alimantado Motors
Greenfield Road
Loverton
PO19 OAH
Date
Re Sponsorship Opportunity Maia Lane Rovers
Dear Mr Alimantado
My name is Ruby Charles and I am the Chair of Maia Lane Rovers FC. The Rovers are a very popular Little League soccer club for under 14 year olds based at The Maia Lane Community Centre, Loverton.
The club has been running for nearly five years now and in that time we have had over 700 different young people use our training facilities, come along to our training sessions or play for one of our 3 league teams. You may also be aware of our popular soccer skills schools which we run at 4 different locations throughout Loverton during the school holidays. The club also has very strong links to its local community and to Maia Lane High School.
We are very proud of our achievements and the hard work of a lot of people connected with the club has also led to on-field success. Our under 12's were County Cup Winners last season whilst 2 senior players were recently selected to play for the county side.
There are however many expenses connected with running the club and we rely for funding soley on our own fundraising events and the support of local businesses.
I understand that one of our parents -Pete Loveday, who I believe, is a business acquaintance, has spoken to you about our search for a new sponsor for the coming season. If it were possible we would very much welcome the opportunity to speak to you about this. Alimantado Motors is a major presence in the town and we feel a partnership would work very well.
The major expense for the club is paying our share of the upkeep costs of the community centre and football pitches. We were hoping that this might be something you would consider helping us with.
In return for your sponsorship we would of course be willing to wear the Alimantado logo on our club shirts and for you to be listed as our key sponsor on all our club literature and monthly newsletter. As you are probably aware our teams are featured regularly on the sports pages of the local papers and our cup winning Under 12's were subject of a front page special last season. Our matches are also well attended by local parents and an increasing number of spectators from the local community.
There may also be the opportunity for other promotions- last year one side in the county league, sponsored by a local service station, organised a very successful charity car wash at the garage which attracted a lot of publicity.
We do hope that this is something you might be willing to consider. We can provide you with further details and a full break down of the likely costs of any deal and I would welcome the opportunity to speak with you further about this. I will contact you next week to see if you would like to take things further.
Thank you for giving this your consideration.
Best Regards
Ruby Charles
Maia Lane Rovers
---
The sample sponsorship letter above is a great starting point for your own sponsorship request. Use it as a template or for inspiration. Always get someone else to read your own letter before you send it to check it makes sense and for typos.
---
---
You are welcome to send us your own sample sponsorship letter. If you have a good idea or letter template that has worked for you please share it with us and if appropriate we will add it to the site.
Submit your sponsorship letter or idea here
---
To leave Sample Sponsorship Letter and return to
The Better Fundraising Ideas Home Page please click here