Sample Fundraising Letters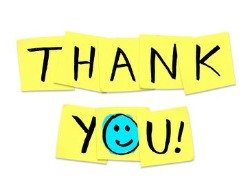 Never forget to thank those who help you

Below are two sample fundraising letters that simply say Thank You.
It sounds so easy, but a nice thank you is so often forgotten. Yet it is one of the most important tasks for any fundraiser.
Firstly it is just plain good manners - if someone helps you, be it financially, by making you a gift or by giving up their time, saying thank you is only right and proper.
Secondly a nice thank you builds the relationship and keeps the door open for future requests.
Do take a bit of time over your fundraising thank you letters. Everyone likes to be appreciated.
Don't forget too its also a chance to talk up your organisation and good cause.
Include anything that will add to your letter's impact. Children's pictures and photos are always good additions. A great idea that some schools and organisations use is to take a digital picture of themselves holding a big poster or banner that says Thank You. Once this photo is made it can be used in all sorts of ways for quite some time.
---
---
Sample fundraising letters- Thank You

---
Pauline Black
Customer Services Administrator
Chocs Away
Scratchperry Business Park
Augustus Avenue
Southsea
Date
Thank You for the Raffle Prize
Dear Ms Black
Thank you very much for the lovely raffle prize which you kindly donated for the school's Jinglebell Challenge fundraiser. The event was a great success and raised over £350. This will allow us to make a serious start on refurbishing our school library.
The raffle was one of the highlights of the afternoon and the lovely Chocs Away gift basket, you so kindly sent us, attracted a lot of attention. Thank you again for your generous donation.
Best Wishes from everyone at Loverton Junior School
Bob Johnston
PTA Fundraising Secretary
Loverton Junior School
---
Fred Hibbert
Community Liaison Officer
Ralph Jarvis Engineering
Loverton Park
Loverton
Date
Thank you from Maia Lane Kids Club
Dear Fred
A big thank you from everyone at Maia Lane Kid's Club to yourself and everyone at your organisation. The volunteers from your company worked so hard helping us refurbish the Community Centre, and were also always so friendly and cheerful. Maybe it was the ready supply of tea and biscuits that helped - we know how to keep people happy!
As you know the club is now up and running and we already have some ambitious plans for a fun-packed Summer programme. Should any of your staff be keen to continue to be involved you know that we can always find them something to do! As always it is male volunteers we lack so if any of your team fancy helping with a bit of football coaching.......?
Thank you again Fred - your help has been much appreciated.
Best Wishes
Andrea Andrews
Chairman
Maia Lane Kids Club
PS . I enclose some photographs and some thank you cards from the club's junior members.
---
So there you are. A neat thank you letter is just as much part of fundraising as the original ask. Show respect to those who help you.... and who knows what might happen in the future!

---

To leave Sample Fundraising Letters - Thank You
And return to The Better Fundraising Ideas Home Page please click here.