Scratch Card Fundraiser


A Scratch Card Fundraiser is an easy fundraising idea

Well it may not be one of the most novel fundraising ideas but sometimes there is something to be said for the tried and tested.
The advantages of a scratch card fundraiser are:
The idea is easy to understand, both to your fundraising volunteers and to members of the public
It can be "worked" on any occasion ie. work, home or social events
Needs no special equipment other than the scratch cards
Can (should?) involve the whole fundraising team and any others who want to get involved
Is not dependent on the weather
Is a low cost way for people to support you
Will bring in good returns - a scratch card fundraiser can be surprisingly profitable
How a scratch card fundraiser works

Scratch cards are specially printed cards with small sections or words that are hidden by a special coating which is then scratched off.
There are several variations on the basic idea:
Match the symbols -In this game contestants try to uncover a certain number of matching lucky symbols to win a prize.

Find the winning team -This is common in the UK. Contestants choose a square on a larger card. This square will have a lucky number or very often the name of a football team on it. The contestants contact details are then recorded on their chosen square. When all the squares are sold the winner's box at the top of the sheet is scratched off to reveal who chose the lucky square to win a prize.
Coupons give away -This is the most common type of scratch card fundraiser in the USA. Supporters scratch a square or a number of squares to reveal an amount to pay. This varies from "free" to a couple of dollars. In return they receive a book of money-off coupons for leading high street stores or restaurants. This may seem a poor return but the vouchers are often part of a marketing strategy by the stores and are usually of a reasonable value. Nearly all the scratch card companies use a card that makes $100 when all the circles have been scratched
Different companies will offer a variety of options around these basic formulas. The more sophisticated cards may have more than one game per card and extra draws for non-winners.
Personalize your scratch cards

Most companies offer different cards for various causes such as school fundraising, cheerleading fundraising, and every imaginable type of team sports fundraising.
The cards can be further personalised by having the name of your organisation added. Nearly all of the larger scratch card suppliers offer this option. Don't miss out on this as its a great marketing opportuninty.
It also shows of course that you are a professional looking outfit and that you are fundraising legitimately.
How to promote your scratch cards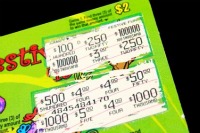 Every member of your organisation should be able to sell some cards. Most people will begin by selling to family, friends, neighbours and co-workers. Cards can also be sold however at all sorts of events and in shops and clubs.
Some clubs incentivise their supporters with prizes or other rewards for top sellers. These can take several different forms:
Top Seller a simple prize for the person who sells the most cards
Early Bird a prize for the person who sells their allotted amount of cards first
Heroes Draw all supporters who sell a certain amount of cards are entered into a prize draw
Here is a sample script for selling a scratch card, you may like to use a variation of this for your own team of sellers
Hi my name is Janie and I'm raising money for the Maia Lane Cheerleading Squad.
The way our fundraiser works is this. You scratch off a circle on this card and it tells you the amount of your donation. In return for that amount I will give you a sheet of discount coupons for all your favourite restaurants and high street stores.
All the money we raise will be going into our fund to help pay for the cheerleading uniforms and equipment for our trip to the national finals next year.
Would you like to support us?
Whether they do or not always remember to thank them and wish them well!
Find a company to work with

Scratch card companies offer many different variations.
The market is also very competitive; there are lots of companies out there keen to sell you their cards.

For the US and Canada we recommend Fundraising.com

---
To leave Scratch Card Fundraiser and return to
The Better Fundraising Ideas Home Page please click here