Rubber Wristbands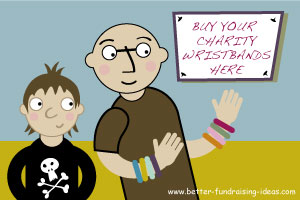 Rubber wristbands can raise both money and awareness

Rubber wrist bands are also known by many other names to fundraisers: awareness bracelets, fundraising wrist bands, fundraising silicone bracelets to name just a few.
Whatever you call them the basic idea is the same. You sell thin silicone or rubber bracelets, usually in a particular colour and printed or embossed with your organisation's name, logo or motto.
By buying and wearing these fundraising rubber bracelets your supporters:
Raise funds - The bands are not expensive but many people will contribute more than the minimum suggested donation.
Raise awareness - Wearing the band builds awareness about the issue or cause. This is enhanced further by the fact that people tend to leave the bands on for quite a long time.
Despite their use by many major charities rubber wrist bands are not just for larger organisations. Minimum orders are low and production straight forward. This means there is potential to sell wristbands to promote anything from the local animal sanctuary, the school swimming pool or the local church or hospice.
Where to order fundraising rubber wristbands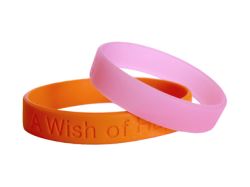 There is certainly no shortage of companies crying out to make awareness bracelets for your organisation. Most will only require a minimum order of 50 wrist bands and there are all sorts of designs you can choose, and deals to be done.
As with purchasing many wholesale fundraising products do check out the offerings of a number of different companies and compare quotes.
Something else you may like to consider is whether the bands are ethically produced. Ask questions and look for the SA8000 standard to ensure that you are only supporting creditable suppliers.
Don't just sell rubber wristbands

Clever marketing will help you sell a lot more charity wristbands.
Use them as an entry ticket to your school or village fete. Try selling them with a lucky number to win a prize. Offer a range of colours so people can, over time, collect the set. Call them VIP wrist bands and persuade local retailers and restaurants to offer a discount to anyone wearing one.
And for long term benefits have your website address included on the band.
Not got a website? Click here for our recommendation.
---
Charity wrist bands are a great way to raise awareness
They are an easy fundraiser too
See how they work for your organisation.
---
---
To leave Rubber Wrist Bands and return to
The Better Fundraising Ideas Home Page please click here