Lollipop Fundraisers Are Easy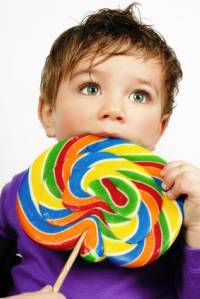 How to make your lollipop fundraisers even sweeter

This is a tried and tested staple of many organisations fundraising programmes.
But you can always find new and different ways to include them in your fundraising events and activities.
The basic idea is very simple-
Your organisation buys small candy lollipops from one of the many companies that offer wholesale fundraising products.
You then sell these, either via your supporters or at any other fundraising events you organise such as fetes and fairs.
The fundraising lollipops are popular, generally sell well and are a common addition to many fundraising activities.
The small round lollies generally make 50 to 100% profit. Gourmet lollipops and specials can make more.
Because fundraising lollipops are generally sold quite cheaply however, you do have to shift quite a few to make good money.
There is nothing wrong with having a simple fundraiser like that working along quietly in the background. Brought out every time you have a fundraising event or social activity.
Below however are a few ideas to give your Lollipop Fundraisers a boost.
Lucky lolly sticks!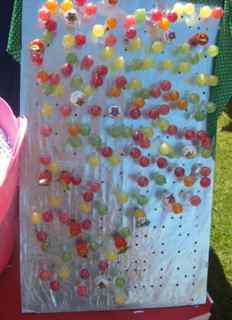 This is a simple way to turn your fundraising lollipops into a great little fete idea.
All you do is paint the bottom third of some of the lolly sticks a different colour. You then display them with the sticks hidden.
This might be in a tray of sand, a strip of styrofoam packaging, or a piece of wood with small holes drilled in to it.
You then can charge people more for a lolly but if they find a lucky lolly stick they win a prize (or a free lolly).
You might like to stick to a few golden sticks for star prizes or you could have a range of prizes for different colours.
Either way everyone goes off with at least one lolly.
Lucky lolly hoopla

This works really well at open air fundraising events and is one of those great fundraising ideas for kids that is simple but always really popular.
You simply stick the lollies into the grass. From behind a marked line people then have to try to hoopla them. This works particularly well with the big gourmet lollipops.
Traffic lights, rainbows and other variations

Bundle your lollipops into certain added value combinations.
For instance sticky tape red, yellow and green together and sell them as the Traffic Light Combo.
Alternatively have the colours of your team or school joined together.
Want to get really ambitious try a Rainbow display tied up with ribbons.
Just be imaginative and try to think of ways to sell more than one lolly at a time
Lollipop fundraisers for special days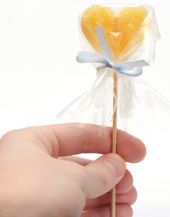 Many of the companies that sell wholesale fundraising products will produce a range of novelty and gourmet lollipops.
Don't miss an opportunity for a quick fundraiser.
Remember its not just the cash, every time you are out there selling anything to raise funds you are also reminding people about your cause.
---
So for fundraising fun don't be a sucker.
Fundraising lollipops have got it licked!
---
---
To Leave Lollipop Fundraisers and return to
The Better Fundraising Ideas Home Page please click here