Great Fundraising Event Ideas

But how will you
Make any money from them?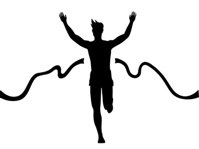 All fundraising event ideas need to make some cash

For many organisations the search for great fundraisers is a constant headache.
How often have you heard-
"Its a great idea but how can we use it to bring in the cash!"
The answer is to think outside the box.
With a little bit of imagination all sorts of things can be turned into simple fundraising ideas that help maintain your profile and bring in the cash.
Below is a real life example of how a simple office challenge was turned into a great fundraising event idea.
Background
For some months 2 office colleagues had been winding each other up about their respective athletic ability.
Janey was young, fit and a regular at her local martial arts club. Ralph was older but still looked after himself. In his youth he had been a formidable rugby player.
The office banter eventually led to a challenge being issued.
A race was to be held to decide the matter.
But how to turn it into a fundraiser?
Although the challenge was serious both challengers were keen to raise some money for a good cause in the process.
The difficulty was how this might be done. Sponsorship wouldn't really be appropriate. Nor could they really charge people to come and watch the race.
The Solution

The race was given a name - As it was to take place in the last week before Xmas it was called the Jinglebell Challenge.
As the 2 challengers worked for, and were well known, in a large organisation, details of the race were posted on the company intranet.
The two challengers were then issued with supporter's cards which they sold (£1.00 each) to other colleagues. Supporter's names were written on the cards. The idea was that the cards supporting the race winner would be entered into a prize draw afterwards, in this case for a portable TV.
As you can imagine selling tickets to supporters also became quite competitive with both challengers achieving nearly 200 supporters each. Of course many people bought a ticket for both challengers.
Selling tickets in this way seriously raised the profile of the event within the company and the charity which would benefit.
The Race

The race took place one lunchtime along a road at the back of the office car park. The supporter's tickets and posters ensured a good turn out of work colleagues, keen to have a bit of fun and cheer on their favourite.
Staff from the charity were present and information about their work handed out.
A master of ceremonies (a well known company figure with the gift of the gab) introduced the 2 challengers with some amusing patter and a few wry jokes about the competitors and the likely outcome.
The race itself was deadly serious and won narrowly by Janey. Her jubilant supporters then watched their tickets being entered into the prize draw, one of them walking away with a brand new portable TV.
The Outcome

Well the office debate was nailed and Janey had bragging rights for the next year.
More importantly though, turning this challenge into a novel fundraising event idea raised a couple of hundred pounds for a great cause. It also helped to raise the profile of that charity within a company leading to long term benefits.
Add your twist to this fundraising idea

The basic concept of selling supporter's cards is a great way to turn anything into a great fundraising event idea. And so much more interesting than yet another (yawn) sponsored event.
It doesn't just work with sports challenges either. Nor with just two people - imagine a whole team seeking out supporters.
Any number of people in any challenge can sell cards to supporters. Doughnut eating, diet challenge, quiz nights, team hockey, disco challenge, football keepy uppy anything goes.
So if you really want to maximise the income of your great fundraising event ideas do like Janey and Ralph.
Find some supporters and
Give them something to cheer about!
---
To leave Fundraising Event Ideas - How to Make Money
And return to The Better Fundraising Ideas Home Page please click here.
---