Jewellery Stall Fundraiser
by St Dominic PTA
(UK)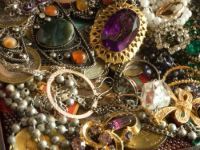 Just a little idea but one which has raised a lot of money for us - a jewellery stall. The parents give away their bits of costume jewellery and the kids just LOVE to buy it (even the boys). It proved especially popular at Christmas when the mums gave away the jewels they didn't want anymore and their children (uncannily) bought it for them as Christmas presents !!!

We found that setting up the stall nicely - with a dark table cloth and boxes underneath (the cloth) to give the table some variety in height and the ability to drape things over it, worked really well. If anyone has a jewellery tree or two that would be great. Price things keenly - the mums are not buying - it is the children who are, so make it work for them.



Well you can't beat a bit of bling!!
This is a really great idea for a school fundraising fete or fair. Remember when asking for jewellery donations that Grandma has probably got a fair bit of stuff worth a rummage also. What St Dominic PTA get right is the way that they really try to give their stall a sophisticated look. Little details like this don't take too much effort; but they can make all the difference. Thanks for sending in a great idea.

Join in and write your own page! It's easy to do. How? Simply click here to return to Share Your Great School Fundraising Ideas.