Sponsored Silence
for Children In Need
by Laurie
( Bingley)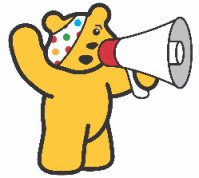 Quiet Please!
Well I am a student at Titus Salt School, me and my friend Bethany are going to be silent for the whole day at school. My friends say I cant do it but I am determined to do it. My friends and teachers have sponsored me. I have raised £15. 70 from 15 minutes walking around the forms of my school ask people if they will help me gather some sponsors. My friend Leighana has sponsored me 20p I say every little bit helps. The most one person has sponsored me is £5 and that was my form tutor because I talk a lot in form and around school.


Neill Wilkins from Better Fundraising Ideas adds - Laurie's great school fundraiser just shows that raising money is all about determination and following up an idea. This is a simple fundraiser, easy to organise and understand.
Well done Laurie who knows what you might be organising in a few years time!
Join in and write your own page! It's easy to do. How? Simply click here to return to Share Your Great School Fundraising Ideas.