Balloon Race
by Paul
(Wolverhampton)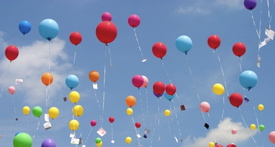 Balloon Race Fundraiser
We wanted to do something different, to literally "raise" the profile of the charity that we were supporting.

So we decided to organise a balloon release and have the photographers present! It got a little out of hand to say the least.

We thought that to benefit the charity financially we would sell balloon tags and then offer a prize to the seller and finder of the balloon tag that traveled the furthest.

Over 700 balloons were set off and the furthest ended up in Scotland. We raised £500 profit after all the helium gas was purchased and the balloons and paid out gift vouchers to the winners (token gesture prizes only).

NOTE - In the UK we did have to check that the number of balloons that were sent off were in line with air traffic regulations and the distance from the release location to the nearest airfield.

But we did make quite a sparkle with the press as we were lucky enough to have a colleague who was getting married at a very nice hotel venue and were invited ( well subtle hints were given) to release the balloons in the grounds after the wedding breakfast by the Bride and Groom, with all their guests watching.

We sent a press release and some photos to the papers and Yes! it hit the news.

The more publicity you can get for a charity the better in the long run. When we did other community fundraisers that year for the same charity, people mentioned the fact that they had seen the balloons in the paper and were happy to put their hands in their pockets for the good cause.

The bride and groom also had a "Free" show for their guests and something that was unusual to other weddings whilst supporting a charity that they were happy to be associated with.
Join in and write your own page! It's easy to do. How? Simply click here to return to Your Charity Fundraising Ideas.