Karaoke Fundraiser
"Sing For The Dogs"
by Jerilyn Churchill
(Hurricane Utah)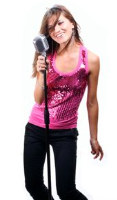 We are raising money to build a dog park in our town.
We organised a Karaoke Fundraiser in the park.

People could donate $2.00 or more per song to sing or to request others to sing.

We added some other bits to make it a fun, social occasion. We had a raffle and food for sale also.

It was a great success and we plan to do it every few months.
Join in and write your own page! It's easy to do. How? Simply click here to return to Your Charity Fundraising Ideas.