Make and Sell Custom Colored
Kukui Nut Leis
by Melissa
(Hawaii)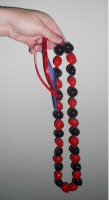 At our local market, they have all different colors of loose kukui nuts with pre-drilled holes that can be made into custom colored kukui nut leis. leis are the traditional strings of beads or garlands that everyone associates with Hawaii.

These leis can easily be sold at sporting events to parents, players, and fans. We sold them for $10-15. We got the ribbon to tie the leis from the local craft store.
Some markets also has pre-made kukui nut leis, so if you want them made for you - it's an option.

Making the leis is a bit time consuming, but if you have a large group together it can be a fun night.

These kukui nut leis are a unique fundraising idea that will be a first in most areas.


Neill Wilkins from Better Fundraising Ideas says - Melissa's idea is simple but it clearly works. There are all sorts of things, not just leis, that can be put together in team or school colours. Nice too to be selling something that you have spent some time hand-making rather than just another off the peg fundraising product.


Join in and write your own page! It's easy to do. How? Simply click here to return to Sports Fundraising Ideas - 2.0 Invitation.