Chili Con Carne Fundraiser
by Mary Ann Jorgensen
(Tampa, Florida)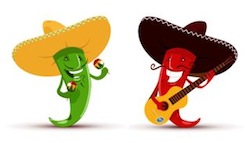 Our school, Bayshore Christian School, created a great chili making contest to use as a fundraiser. Chili makers bring a crock pot of cooked chili following a recipe of their choice to the school cafeteria.

Each chili maker is assigned a number and all their sample cups (use small paper cups or similar) will have that number listed on it . Guests pay a set price which includes dinner and a basketball ticket for that night's game.

Dinner includes: All samples of chili, baked potato with trimmings (sour cream, butter, bacon bits, and chives), green salad and dressing, dessert and drink. In case of allergy all the chili ingredients are listed on a page in front of each crockpot.

Guests also receive a chili ballot paper and basketball game ticket when they pay for dinner

Guests eat their meal and rate their top 3 favorite chilis. The completed ballot is dropped into the ballot box when leaving the cafeteria.

Later during the basketball game at half time you announce the top 3 favorites .

1st place $100 award and chili print apron " BCS Chili Winner"
2nd place $50 award
3rd place $25 award

It really was a great evening for all.




Now that's what we call a tasty idea!
This is a really great idea for a school sports team. It could however be used by any sports clubs for all sorts of occasions.

Really its just a great way to generate a bit of excitement and add a bit of value to anything else you had going on. Ballots are always good because people like being asked their opinion about something. It makes them feel important.

If you had lots of chili makers you may like to restrict the number each diner assesses to 3.

Another way to do this would be to call a chili challenge between just 3 individuals ie the principal, the sports coach and the school caretaker, or between teams, school houses, groups of friends to come up with a big batch for testing and voting.

At Bayshore school they used this to generate some extra excitement around a basketball game. You could also use it on its own or at another fundraiser such as a charity quiz night.

What about in the staff canteen at your office where the managing director pitches her chili recipe against other members of the management team?

There are lots of ways you can set this idea up as a fundraiser to work best for your situation

Hot stuff Mary Ann! Thanks for sending in a great idea.


Join in and write your own page! It's easy to do. How? Simply click here to return to Share Your Great School Fundraising Ideas.