Tombola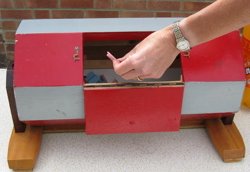 A tombola is a must have at the summer fair
But is also a good fit with many other fundraising events

A tombola is a must have for any school, church or youth group fundraising event and is often a major fundraiser at fetes and fundraising fairs.
The basic idea is very simple.
Supporters of your organisation donate prizes in advance. These then have a number assigned to them and are put on display. During your fundraiser people buy tickets, which if they match the number on an item, win that prize.
They are popular because:
They are easy to organise and run
Don't require too much room (ideal where space is limited).
Rely only on a small ask from supporters
........... "Can you supply a small prize for our tombola?"
Can bring in a tidy sum with absolute minimum outlay
Donated prizes tend to be fancy foodstuffs, boxes of chocolates, toiletries, unwanted gifts etc. They could however be anything appropriate to your event and of any value.
Tickets

You can of course print out 2 sheets of numbers but most people use a book of raffle tickets.  The tickets from one side are folded and put into the draw container. Tickets from the other side are used to number the prizes.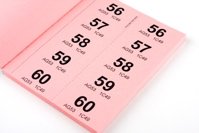 It is usual that not every ticket will win a prize therefore a proportion of these tickets are discarded. A good way of doing this is to only affix tickets ending in five or zero to the prizes (throw away the others from this side). Your advertising posters can then say-
"Any Number That Ends In A 5 Or 0
Wins a Prize!
You can change the ratio of winners to losers to suit your circumstances and the number of prizes you have. You could also offer a small consolation prize such as sweets or chocolates to unlucky punters.
The price charged for tickets again depends on your event and the prizes. A common trick is to offer anyone buying more than one ticket a better deal such as buy 4 tickets get 1 free.
Not got a roller box?

Some organisations  have specially made little wooden boxes (like the one in the picture at the top of this page ) which spin at the turn of a handle before people open a little door and pick out a ticket.
The tickets can however be drawn from a hat, bucket or something similar. You might be able to choose something that fitted the theme of your event.
Example - Pull the tickets from a witch's cauldron at the Halloween Fundraiser.
Lucky straws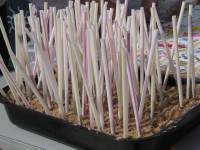 Another common idea is to roll the raffle tickets and insert them into the end of a plastic drinking straw, just far enough so the end of the ticket is poking out.

The straws are then stood up in a sand box and people pick a straw.
Jam jar tombola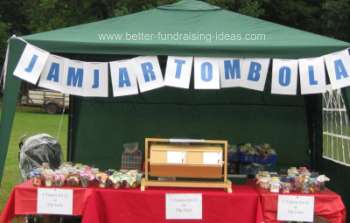 This is a great variation on the basic  theme. It makes a great fundraising idea for kids and is perfect for school fairs and village fetes.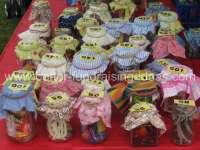 Fill jam jars with sweets, biscuits or small toys. When someone picks a winning ticket they win the contents of that jar.
Jars can be filled in advance and sent in by your supporters ie via a request to parents that their kids bring a full jar in each.
Or you can buy wholesale fundraising products or sweets and fill your own.
You may like to have a STAR JAR with a really good prize in it. Perhaps containing a banknote or jewelery.
---
Fortune cookie tombola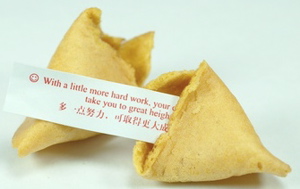 At larger events fortune cookies can make great novelty tickets for your stall. People buy a cookie instead of a ticket.

As usual a certain number of  winning tickets contain a message that entitles you to a prize.
" Well done - You've won a prize"

The majority however read
" Sorry you are unlucky this time -  try again"
You can see  there is an element of fun - win or lose
And even if you do not win a prize..... you get to eat the cookie!
---
Tombolas are really easy and can bring in a nice bit of money.
Make sure you have one at your fundraising event.

It could just be the winning ticket!
---

To leave Tombola and return to
The Better Fundraising Ideas Home Page please click here