A Santa Run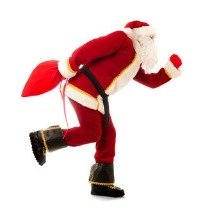 A great way to raise charity funds at Christmas

Christmas offers all sorts of opportunities for fundraising. One key event that has become increasingly popular in recent years is the Santa Run. All sorts of organisations, clubs and charities are finding it the perfect fundraiser and a great way to have a bit of fun

What is it?

Basically it is a simple fun run put on some time over the Christmas holidays where everyone dresses up as Santa Claus / Father Christmas. The great advantage is that because of the dressing up element it is not too serious and will attract many more people than a normal more sporty event.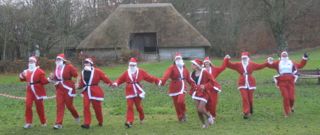 How far do you run?

This all depends. Not many Santa Runs are longer than 5km. Many are much shorter to attract the "not so athletic" amongst us.
At other events the distance is dictated by the location:
Up to the top and back down a hill
Along a beach front or promenade
Around a school playing field
Between a number of pubs / bars
Through a town centre
Between 2 churches

Whatever the location you can of course do several laps to make up the distance.
To attract the maximum number of entries you can also offer a range of distances to suit different abilities:
A Santa Sprint / Santa Dash over 1km
A Santa Stroll - more of a walk than a run over 1km -5km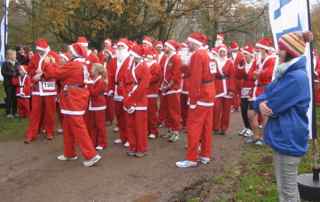 How do they raise money?

The main way that you make money is through:
Commercial sponsorship - Would a local company be willing to sponsor the entire event in return for their name being associated with it. ie the Bensons Beds Santa Run for St Richard's Hospice. This sort of company support usually would cover the cost of staging the event. It might be that they could also help with equipment and logistics.
Participants for the run itself might then be mostly from that company as a way of getting their staff involved in a  community event. It might be however that the company particularly want it to be an event open to others and are more interested in simple promotion of their brand or company.
Individual sponsorship - This is really the main way to make money. Every runner is responsible for collecting as much sponsorship money as possible. These days this is usually for taking part in the whole event rather than an amount per mile. You will need to provide a sponsorship form in advance to all participants. As with all sponsorship you can have simple competitions to incentivise runners. ie prizes for people who raise the most etc. Within sports clubs you might be able to play off one team against another or in offices one department against another to engender some rivalry to encourage greater efforts around sponsorship.
Selling stuff on the day - If there is one expression that should be embalzoned on the heart of every fundraiser it is-

If you see a crowd sell them something
Your Santa Run will attract a lot of people both competitors, their families and friends and other spectators who have simply come along to watch the fun. You need to be selling refreshments (mince pies and hot tea and coffee), raffle tickets and running any other mini stalls you can think of. Do not miss the opportunity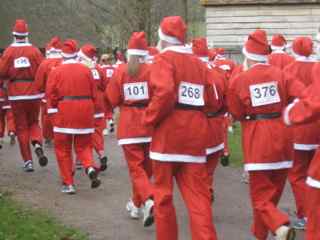 How do I organise a Santa Run?

Santa Runs can be enormous affairs and in some towns and cities they can attract several thousand participants. Others are much smaller with between 50 and 250 participants. If you think your organisation or group is too small to put on a run you can always partner with others. In this way 2 local churches could run between parishes or 2 or 3  local charities take over the local park for the afternoon.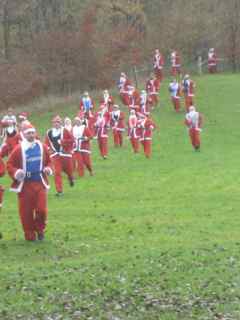 The course - First and foremost needs to be safe for both runners and spectators. You also need a good place for start and finish lines. Think about toilets and parking. Think whether you need permission. You might need to talk to the local authority. Don't be put off by that you might find that they have some helpful suggestions.
Sponsor forms - Really important if you want people to raise money. Make your blank forms profesional but friendly. Keep it simple. All you really need is details of the event then a blank table with name, address and amount sponsored. If you are a registered charity you should include your registration number. You should always include a contact address and telephone number for your organisation. Think how you will get these out to your runners. This might be by printing and physically handing them out or by electronic registration and then download to runners via computer. These days too it is very easy to set up a page for online donations via sites like JustGiving and many people prefer these as it makes things click easy and no money handling for competitors.

Signing up - You really do need to get people to register to take part in advance although always be willing to take extras on the day. Ensure that you record the names and contact details of all those who agree to take part. You can register people  manually at other events or electronically via a website. Some organisations charge a registration fee to take part to help cover costs. This should not deter committed Santas and ensures that people take it seriously and are less likely to drop out.
Registration - On the day make sure that you register all those taking part and check their names against you master list. You should give them a number. When they have completed the course you should check them back in. It is important to do these things properly and professionally. Although a Santa Run is lots of fun it is also about charity and raising money. Runners too will want to know that there efforts are appreciated and the event is being well managed.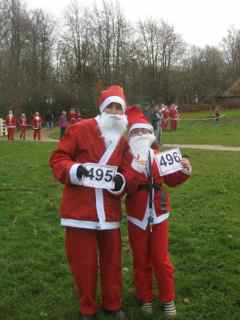 Santa outfits - The whole point of a Santa Run is that everyone is dressed as Father Christmas. You need to provide at least a Santa hat for competitors but these days most organisations will also provide a cheap Santa suit for competitors. You can buy these in bulk (using registration fee money) and reuse every year. Often people bring their own suits from previous years etc
Collecting the money - Make sure that you have clear dates set for the return of any  sponsorship money collected.
Thank you and feedback - do make sure that you make a big announcement about how much you raise in total and thank all those who take part. Thank also all the stewards and helpers who assit you in bringing it all together
.
Fundraising Events with Eventbrite


All you need to know about using Eventbrite to sell tickets for shows, dances, fun runs, race nights, firework displays and a whole lot more

Making the most of your event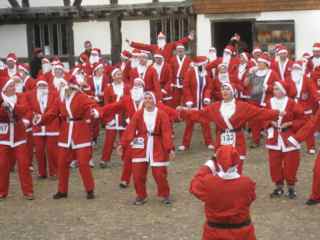 Its really important to engender a sense of fun at the event. A Santa Workout in advance of the run is a great way to achieve this. Can you persuade a local aerobics teacher to come and put your Santa's through their paces.
At the very least make sure you get all the Santas together for a "Team Photo".
Whist everyone is in one place this is also a great opportunity to tell them all about how important their efforts are for your cause and to thank them for taking part

Medals
Publicity

As well as being great fundraisers Santa Runs are a brilliant way of attracting publicity to your organisation. This might be to attract support for your cause or more volunteers for your organisation.
You therefore need to do everything possible to advertise your event both before and after.. Having a key personality to start the race is a good idea. If you dont know any celebrities could you ask the local mayor, the local vicar, the oldest resident in the village etc. If none of those suit how about dressing someone up as a Super Santa, a Snow Queen a King of the Ice etc
Things like this make more of a spectacle on the day and could provide a good picture for the local press

Variations
There are a number of variations you could do on this basic idea just to be a little bit different.
The whole thing is only limited by your imagination

Build things up over time

It may take a couple of years to get your Santa Run established but do stick with it. They really are great fun, good money makers and can become a regular part of the fundraising calendar in your town.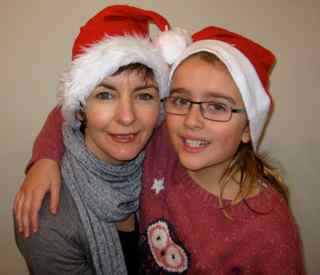 ---
All the pictures on this page were taken at the Santa Run organised by St Wilfrid's Hospice in Chichester (UK). The event took place at the Weald and Downland Museum in Singleton.
Do you have a picture of your Santa Run. Send it in to us and we will include it on this page

---
To leave Santa Run and return to
The Better Fundraising Ideas Home Page please click here