50 : 50 Raffle
A simple fundraising idea
That's a great money-maker!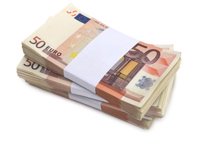 A 50:50 raffle is one of the most simple fundraising ideas you can do.
It fits in perfectly with all sorts of events.
This is how it works-
You sell raffle tickets at any event that you have going on.
There is only one prize-
Half the takings!
Thats right, some lucky person gets half of all the money taken. The other half of course goes to your organisation.
The more tickets that are sold - the bigger the jackpot!
Build the excitement by showing the current total on a display board. If you can fit your totalizer in with the theme of your event so much the better. Its really important to whip up some enthusiasm for the raffle but keep it good fun.
Of course the more tickets that are sold the less the chance of winning.
But hey doesn't that mean that everyone should buy a few more just to be in with a good chance!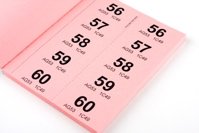 Don't forget to have a last minute run round to see if anyone wants any more tickets just before the draw is made. You would be surprised how much extra cash you can bring in by getting the right person on this job.
Declare the winner at the end of the event and make a big thing of presenting them with the cash. Even if you are disappointed yourself, most people love to see someone else being lucky. The announcement can be a real highlight.
Simple fundraising ideas are often the best.
A 50 : 50 raffle is a guaranteed winner!
---
Are 50:50 raffles legal?


50 : 50 Raffles are not permitted in some countries (and certain states in America). This is because of the high percentage payout (50% as opposed to a more usual 10% for normal raffles) they can be considered a form of gambling. Some authorities will allow them but only if run by registered charities or by obtaining a special licence.
They do work well however and can be a popular money spinner for your organisation so the extra hassle may be worth it for your group.
Please check with your local licensing department before running this type of raffle.
---
---
To leave Simple Fundraising Idea - 50 : 50 Raffle and return to
The Better Fundraising Ideas Home Page please click here