Novel Fundraising Idea -
Wild West Day

A summer fair with a difference
... ride em cowboy!

Bored of summer fetes? A Wild West Day is a novel fundraising idea that can have great money-making potential for any charity organisation.
Advertising your Wild West Day

As well as the usual press announcements, posters and flyers use cowboys themselves to advertise your event. A few strategically placed props with advertising posters will really stand out. If you know a friendly shop owner they might even let you put something in the shop window.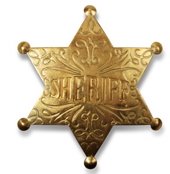 A Cowboy Walkabout the week before in your local town will also get your event noticed. If you are allowed to take a horse into your town precinct how cool would that cowboy be? Don't have a horse? What about a pantomime horse? Or I bet someone's kid has a toy Hobby Horse.
Imagine the scene a Possee of Desperados arrive in your town centre on Hobby Horses! And then start giving out flyers! The local press would be falling over themselves to write about your forthcoming event and who could resist a personal invitation from a "real" Cowboy!
Wild West Day need not be complicated you can use many of your tried and tested fete ideas - simply re-jig them to fit in with the Wild West theme. Dont forget to get all your helpers in check shirts jeans and cowboy hats or Native American costume.
Below are some novel fundraising ideas you might like to include:
Chuck-a-cowboy-boot


This is the Wild West version of Welly Wanging. A competition to see who can chuck a cowboy boot the farthest. Seperate contests for the kids and for the grown-ups is only fair.
Make a feather headress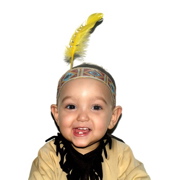 Set up a stall or table where kids can make feather headresses.
Feathers can be obtained by either catching and plucking Wild Eagles (not reccomended!) or purchased from craft supply stores.
Get a good craft person to man this stall. The kids will love it.
War paint face painting

Scary warrior braves. All getting painted up ready for battle.
Wild West fancy dress parade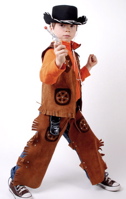 Have a fancy dress competition with a difference. Advertise well in advance and have a competition to find the best Wild West get up. Extra marks for anything home-made.
Cactus trail

Strategically placed cactus pictures around your site all contain clues to a competition - children need to discover all the clues to find a prize? Alternatively the cacti could all hold a letter that spells something etc
Paint a cowboy

Either get kids to bring along a painting from home. Or provide paints, crayons, craft materials and paper for them to produce a stunning piece of Wild West art work there and then. This type of stall is often overlooked but is always really popular with children. Position it near the refreshment tent so parents can have a cup of tea while they are waiting.
Find the cowboy

A wild west version of the golden egg fete game. Simply hide a small toy cowboy under one of a series of cups or pots. Find the cowboy to win a prize.
Cactus hoopla

This is the cowboy version of hoopla.

Make your cactus from sheets of hardboard.

A prize to anyone who can hook a ring on the cactus.
Sling a Stetson

Here is another Wild West fete game.

Contestants try to pitch a cowboy stetson into a hoop to win a prize.

A new take on throwing your hat into the ring!

Horseshoe toss

The old game of trying to pitch horseshoes around a metal pin is perfect for wannabee ranch hands.
Crush the critter

Ok it may look like Splat the Rat but not on Wild West Day!
Native American sweets / Cowboy candy


Wild West Day may be a novel fundraising idea but this is a simple money earner. Add a Native American blessing to small bags of sweets and candy and sell to the kids and their parents. You can download suitable blessings from the internet (you could also use cowboy jokes or cartoons to make up your bags) but here is an example -
Cherokee Blessing -





May the warm winds of Heaven
Blow softly on your home
And the Great Spirit bless all who enter there
May your moccasins make happy tracks
In many snows
And may the Rainbow
Always touch your shoulder
Wild West refreshments - served at the "Chuck Wagon"

Butch Burgers and Sundance Sausages - Hot off the barbecue with plenty of relish.
Clint Eastwood Corn on the Cob - Roasted on a barbecue and eaten with butter and salt - delicious.
Bonanza Baked Beans - Served in a tin mug - yes please
.Magnificent 7 Melon - Lovely slices of chilled water melon - on a hot day who could resist.
Fistfull of Tacos - Crunchy, spicy tortillas. - "Gracias senor".
Cowpoke Cookies. - Normal cookies with Wild West icing - perfect with a cup of tea.
---
Novel fundraising ideas like Wild West Day are a perfect way to make your usual round of activities a lot more fun.
So get your volunteers rounded up and Head West!
---
Your fundraiser ideas


Do you have a novel fundraising idea?
Or did you come up with a great theme
for your fundraising event?
Click this link to share it with others around the world
Click here

---
To leave Novel Fundraising Idea - Wild West Day and return to
The Better Fundraising Ideas Home Page please click here.
---