School Dance Fundraiser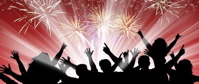 D-I-S-C-O!
A school dance is always a popular fundraiser

Holding a school dance is a really obvious fundraising idea that somehow often gets overlooked. They are however much loved by both younger kids and teenagers.
You always remember the excitement of going to your first high school dance? Girls in the outfits they'd been planning for weeks. Boys slathered in Dad's aftershave!
To organise a good school dance is reasonably straightforward. You do need a good team of helpers however and support from the school to pull off this fundraiser successfully.
Choose a theme

A theme is not vital but can add a lot of fun to your event
How about:

The Valentines Ball

The Summer Special
The 'Back to Skool' Bop
The End of Term Armistice
The Winter Warm Up
After picking a good theme use it to help you plan designs for any tickets, posters flyers and decorations. You may be able to get the school art department to help here.
Decide on the venue

Many schools will have a hall or gym that can be used. A marquee in the school grounds is another possibility. Alternatively you might wish to hire a village hall or social club. Sometimes you can strike a deal with a local venue or night-club to host your party. The advantage of this is that you have use of their facilities but it generally eats into your profits.
Arrange the music

For young children you may get away with a boom box / cd player. For older kids and teenagers however you almost certainly need a DJ. This can be expensive. You might be able to negotiate a reduced fee for a mid week booking. The advantage of using a professional is that they will probably have all the lights and other effects to really get your party going.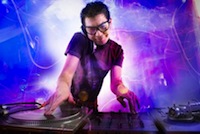 Some schools may have a budding DJ amongst their pupils. If so make sure that they understand the requirements of your event and will not insist on playing hardcore techno all evening.
Some schools will also have pupils playing in bands etc. If any of these school bands are of a good enough standard perhaps a half hour slot can add to the evening.
It is important to remember that your dance needs to be reasonably credible and cool. These are cynical teenagers after all!
Tickets
Selling tickets for your fundraiser can usually be left up to the school. Its generally easy enough to get a couple of responsible pupils to set up a ticket booth table one lunchtime. Obviously make sure any money taken is safe and not likely to "wander off"!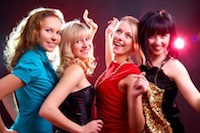 It is important to do your sums when pricing the tickets. This is a fundraiser after all. What do you need to charge to cover costs? Then how much are you aiming to make on top. Do not be afraid to price the tickets realistically.
It is best to restrict tickets to those from your school only. Similarly it is best not to allow payment on the door.
It is also normal to target the event at certain school years only and keep the event exclusive to 1 maybe 2 school years.
Fundraising Events with Eventbrite


All you need to know about using Eventbrite to sell tickets for shows, dances, fun runs, race nights, firework displays and a whole lot more

Refreshments
Part of the fun of attending the dance for youngsters will be going up and buying soft drinks and other bits and bobs such as crisps and chocolate.
For teenagers cool commercial snacks and drinks (rather than homemade lemonade and cookies) are the order of the day.
If its possible to organize and cook them simple things like plates of French fries and pizza also go down well.
Help on the night

Help on the night will generally be drawn from members of the Parent Teachers Association / Organisation and other parent volunteers.
You will need at least 2 people on the door to check tickets etc. The "door presence" should also be capable of dealing with any troublemakers.
You may wish to have someone on cloakroom duty. This involves checking in coats (its usual to issue a numbered ticket) and ensuring they are safe and that the pockets will not be rummaged.
Other helpers will be on refreshment and (non-alcoholic) bar duty.
It is also best to have one or two others around simply to take care of any problems. A good team with plenty of help also makes for easier work cleaning up at the end.
---
So if you want a school fundraiser that will be a hit with the kids
Get your dancing shoes on!
---
To leave School Dance Fundraiser and return to
The Better Fundraising Ideas Home Page please click here