Valentine Fundraising Ideas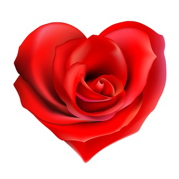 Love Is In The Air
You'll Love These Valentine Fundraising Ideas Too!
Valentines Day
A day of Love, Romance....... and Fundraising
Check out these great Valentine fundraisers and don't forget to tell us about your own.
Valentines Day falls on 14th February.
So what fundraisers will make your heart skip a beat? Here are some great valentine fundraising ideas to get you going.
On Valentine Day lovers traditionally exchange cards, gifts and other small tokens of their love and commitment to each other. These can be jokey or serious and there is lots of potential for charity fundraisers to muscle in on this market.
Sell Valentine roses


My love tis like a red red rose.
- Robbie Burns
Ever since medieval times the red rose has been the symbol of love the world over.
Selling roses singly or by the dozen can therefore be a major earner on Valentines Day.
The difficulty is getting hold of them, as of course it is a major day for every florist and nursery in the country. If you can get hold of roses, and you will probably need to have made arrangements some time in advance, then you are pretty much guaranteed success.
Take orders in advance or sell them singly from a stall at the exit of your school or workplace. Alternatively have a table in the local shopping mall or high street.
You may also like to tour the local restaurants in the evening. Many couples will be out having a romantic dinner. Who better to help their candle-lit canoodling than you, by offering them (with the restaurant manager's permission) the chance to buy a red rose.
Another option is to team up with a local florist and suggest a donation to your group for every rose purchased as a marketing opportunity for them. In return you might like to offer your services on the day helping to deliver roses and other bunches of flowers. Valentines day is obviously a very busy 24hrs for florists so this offer may be quite attractive to an overworked flower seller. Get you deal set up well in advance however and don't let them down.
If real flowers are too difficult to organise there are also lots of rose related fundraising items that you could be selling: Wooden roses, chocolate roses, rose petal scents and bath oil etc.
Make and sell Valentine cards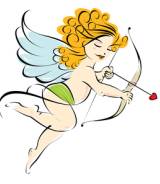 f you can do these nicely you will find a ready market. Most groups have a couple of keen "crafters" amongst their number.
The best Valentine fundraising ideas are always personal.
Someone we know who was good at calligraphy raised a lot of money by personalising cards.
She took orders at her work in the 2 weeks before the 14th. Her fundraiser was really popular and people seemed to love the fact it was that bit different and helped a local good cause.
Bake some heart-shaped biscuits or Valentine cupcakes and sell them at work or school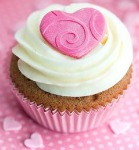 Heart shaped Cookies and Valentine Cupcakes are a simple Valentine fundraiser.
Who could resist a tasty little number specially decorated for Valentines Day.
Valentine raffle

Raffles are always an easy fundraiser. Get together a few nice bits and pieces and organise a simple Valentine Raffle at work.
Valentine fortune cookie


You need to get organised in advance for this one but what a novel Valentine fundraising idea. Make up little bags decorated with hearts etc containing 2 fortune cookies (you can arrange special Valentines messages on the fortune papers when you order them).

Everyone is going to be buying these and taking them home to their partner!
For more details about fundraising with fortune cookies please click here
Valentine dinner dance

You might choose to work with a local venue for this. Your event can be as showy or as informal as you wish. Maybe you could come up with some interesting variations.
How about a lunchtime Valentine meal followed by an afternoon tea dance for seniors. Or an evening young teen event.
One beach cafe in the South of England takes over the local seafront tram service renames it The Love Train and does a whole package evening including meal and transport on the train to the cafe for a brilliant and popular charity Valentine fundraiser.
"All you need is love" Disco

It doesn't have to all be slushy romantic stuff. Try this as a Back to the Sixties Valentine fundraising idea. The advantage is that you can target singles as well as couples.
Find a venue.Book a DJ. Put on your flares and get loved up to the sounds of The Beatles, The Birds, Traffic and all your other 60's faves.
High school fundraiser - Secret admirer


And finally a great Valentine fundraiser sent in by LEI from Kentucky

High School Fundraiser - Secret Admirer
Wall of love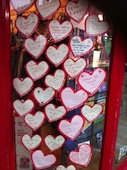 Valentines is a time when people want to show the world just how much their special someone means to them.
How much would they pay to post their love for everyone to see. And support their favourite good cause or that of their loved one at the same time.
Why not set up a "Wall of Love" where, for a small fee, romantic souls can share their love with the world. Charge either a fixed amount or a donation for the chance to display a "heartfelt" message on your wall of love. Not got anyone special at the moment how about a message of love to your mum, or gran or even the family cat - anything to support the cause.

The wall in the picture is in a shop window but you could easily do this at a church, community hall or school. Of course your wall of love could also be online - time to have a word with that teenage techie!
---
---
So there you are St Valentine Day.
And whether they be young star-crossed lovers or loved up seniors everyone is looking for a little romance.
A few well chosen Valentine Fundraising Ideas have also got to be the order of the day. You wouldn't want to miss a great opportunity would you?
---

To leave Valentine Fundraising Ideas and return to
The Better Fundraising Ideas Home Page please click here