Fundraising Treasure Maps
and
Lucky Squares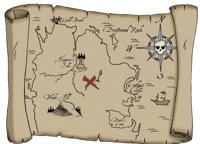 Find the treasure. A classic fete idea

A treasure map is a really easy idea for a fete stall

There are lots of variations you can do but the basic idea remains the same.
A large piece of card has a pirate map drawn on it. This should be as attractive as possible with various named features ie. Dead Mans Gully, Mermaid Lagoon etc.
A grid of small (3cm x 3cm) squares is then drawn lightly on it. All the squares are numbered off and it is decided (in secret) which square will be the lucky one holding the prize.
Contestants then pay a fixed amount to write their name in a square. The actual position of the winning square is not announced until all the squares are bought up. Should the actual winning square not have been purchased by the end of the event the nearest square with a name in it wins.
There are all sorts of variations you can do on this theme:
Use a real map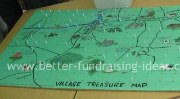 This might be:
A map of the school grounds.
A street map of the local area - people love to buy a square where there house is.
A larger local area map featuring nearby attractions.
A county or state map.
A map of the world.
As long as a map can have a grid easily superimposed on it (and most already do have) you are all set.

Tip - Try using little pin flags
There seems to be an added attraction in pinning a little flag with your name on it on to a map!
Use any other picture appropriate to your event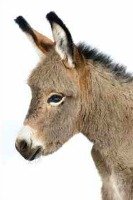 Of course it doesn't really need to be a map. Any picture can be divided up into lucky squares.
This might be:
An iconic photograph.
A sporting triumph.
The donkey at the local animal shelter.
Simply choose something that works for your event.
Use lots of little pictures

Instead of one big picture use lots of little ones. How about a grid of pop or TV stars - is your favourite hiding the prize? What about all the teams in a sports league?
Or at local sports club fundraisers pictures of all the current players - will Mum choose a picture of Dad .......or...... that dishy centre forward?
Lucky Birthdays / Calendar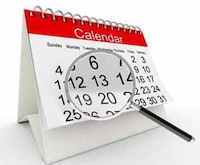 People simply buy up their birthdays and those of their family. Will your birthday be the lucky one.
You'd be mortified if it won and you hadn't put your name on it!
We have a whole page about how to run a Lucky Birthdays Raffle
Have a grid of stickers

For more instant gratification you could make up a grid of easy peel stickers. Contestants pay to remove one and underneath find out if they have won a small prize such as a chocolate bar.
Pick a Post It Note could be another simple variation of this

Lucky raffle ticket treasure maps

This is another neat variation on the map idea. Have a grid of holes drilled into a board on which is painted your map.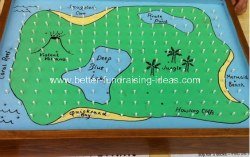 A rolled up raffle ticket is placed in each hole.
Contestants pay to choose a ticket to see if they win a prize.
This could be of a typical pirate island, but at village fetes etc a map of the village is once more a nice touch.
If you do keep this map local people will particularly love to choose a ticket from their road etc to see if it were lucky

---
Treasure Maps are ideal fundraisers. The basic idea can be very easily tweaked to fit any occasion or good cause.

So if you want to find buried treasure at your event
..........Get A Map!
---
---
To leave Treasure Maps and Lucky Squares and return to
The Better Fundraising Ideas Home Page please click here