The Mistress of Fortune Telling
Gypsy Rose Lee Sees A Bright Future For Your Fundraising Event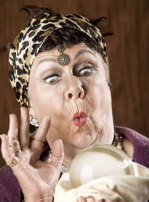 "Cross my palm with silver my pretty
And I will tell your fortune"
That's right Gypsy Rose Lee is bringing her crystal ball to our fundraising event. Fortune telling is always popular. Some people take it really seriously. Not us though - We want to have a bit of fun!
What you need:


A tent or darkened room
An aura of mystery hanging about the place. Or is it the smell of the incense sticks!

A magic crystal ball

Ok thin on the ground unless your name is Harry Potter however you can make a great one of your own by putting a flashing l.e.d. cycle light under a glass pastry or goldfish bowl and covering the whole lot with a red silk cloth. No-one will tell the difference - honest!

An old crone who can tell fortunes

Should you not be able to come up with one of these....and we hope you have at least tried.... a good alternative is a volunteer from your fundraising committee done up in a black wig, gold earring and a wart made from a rice krispie stuck on the end of her nose.

Using her powers of clairvoyance and knowledge of the dark arts. Whilst also probably being in the fortunate position of knowing a bit about many of those seeking her guidance. Or, if not, being quite prepared to hazard a guess! Our fortune teller will then offer her own unique take on the issues confronting her clients.

On gazing into her crystal ball she will probably see any number of tall dark strangers. Untold riches. Sporting triumph. Success at work. Imminent love matches. Questions being popped. All delivered in her own inimitable Gypsy way.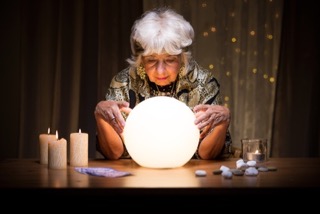 Do not question her- She knows best. She has been telling fortunes for years and remember

"The Crystal Ball sees everything my dear......"
---
---
To leave Fortune Telling and return to
The Better Fundraising Ideas Home Page please click here.