Charity Head Shave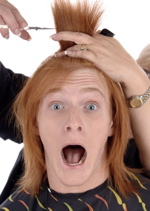 Its head and shoulders above all other fundraisers

What do you mean charity head shave?
Well if you really don't fancy the skydive, the bungee jump or the firewalking.
If you've had enough of charity race nights, fundraising suppers and curry nights.
If last year's Summer Fete was a wash out and you just don't fancy organising yet another charity carwash. Then maybe its time you considered giving just that little bit more!
The ultimate sacrifice. - Its time for a haircut!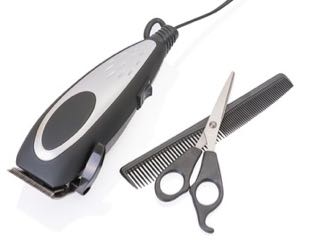 Charity head shaves have long been a popular way of raising money for good causes.
The idea is very simple and a great attention grabber, guaranteed to attract publicity to your good cause.
They are also easy to organize and if done properly can bring in considerable sums of money.
Before your charity head shave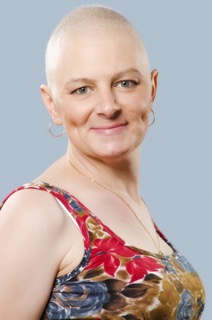 Anyone can do this simple fundraiser and both men and women will find it to be a profitable fundraising idea if done correctly. The most successful however are those involving those "larger than life" individuals found in every community. The big hairy biker going under the razor being a particularly popular option.
Groups of friends "getting the chop" together is also common, often as a way of supporting friends with medical conditions.
Pre- publicity is vital to maximize revenue. Candidates for the barber's chair should get themselves out and about as much as possible in advance. Galvanizing support and getting sponsors. Flaunting their locks one last time and letting everyone know what they are about to do. A common ploy is to set a clear target-
"If I can raise £500 the hair comes off".
This gives a bit of focus to the idea and makes it clear to everyone what is going on.
The charity head shave itself

Obviously you need to big this up as much as possible. Choose a venue where those sponsoring you can watch. Your local club or bar is great.
The workplace canteen works well if it will help you raise extra cash from colleagues.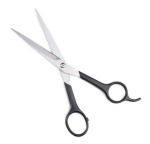 Some people use other events such as fundraising fairs or charity evenings to go for the big snip.
In all cases a last minute run round with a bucket will add some extra cash to your fundraising total.
Don't forget to have some other fundraisers such as raffles, auctions going on at the same time.
Don't forget too to have plenty of publicity materials for your good cause to hand. You are making a big commitment for something you believe in - let people know how great your charity is!
Make sure the local press is there and that your friends are taking plenty of pictures and videoing events.
Most barbers or hairdressers can be prevailed upon to give their services for free. Get them to make the most of it and play up to the cameras a bit. Bringing out a set of gardening shears etc always gets a good laugh. They can then get busy with scissors and clippers! Save your hair - it can be used to help other charities such as Locks of Love which make wigs for people suffering certain medical conditions
After the hair is gone

Cold isn't it!
You may find that you can squeeze an extra bit of cash out of some of your supporters as they are now confronted with the new you!
You can make extra money too out of your charity head shave by posting the video on the web - You Tube, Facebook, My Space etc with simple donation instructions. The online giving websites too work well with a nice bit of footage of your charity crop! JustGiving

---
So when you're stuck for fundraising ideas a charity head shave could be just what you need. Its easy, its fun and it brings in a surprising amount of cash.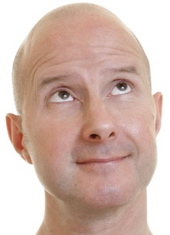 As fundraisers go
This is head and shoulders above the rest !
But don't tell everyone - keep it under your hat!
---
---
To leave Charity Head Shave and return to
The Better Fundraising Ideas Home Page please click here