Rubber Duck Race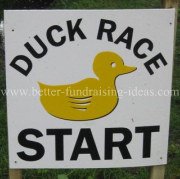 The search for the Quickest Quacker in town!

A rubber duck race is an increasingly common and always popular fundraising idea.
This fundraiser does involve an initial outlay for the rubber or plastic ducks; but this is easily recouped and the costs are then negligible in subsequent years. Or while you "test the water" you might actually be able to rent or borrow some from another organisation who run a duck race in another location.
Racing ducks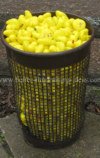 Large bags of "racing ducks" can be purchased from fundraising product supply companies. There are also companies who rent out fundraising ducks.
Racing ducks are also available on Amazon.
Click the link for latest prices at your store

An alternative to ducks is to run an event called Message In A Bottle. Simply use plastic water bottles each containing a piece of card with the name of the owner.
Sponsor a rubber duck

| | |
| --- | --- |
| | All the ducks are carefully numbered in waterproof pen. Contestants then pay to sponsor a duck. This is generally done in the days building up to the race but can be done on the day at a suitable location. Record all the sponsors names against their duck's number. Best to take a phone number also in case they were not able to attend the race. For added fun sponsors could give their duck a "racing name". |
Making your rubber duck race just that bit more special

Don't forget to really "big up" the event. Get the rivalry between different duck owners going. Perhaps you could have a trophy -The Quickest Quacker Challenge Cup etc.
The local paper or radio station might be interested in a humourous, spoof interview with a duck trainer in the build up to the event or a few words from the winning owner afterwards!
Fundraising extras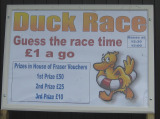 On the day there are other ways to raise money. For instance a guess the time of the winning duck competition. You will need to have a list of likely times written out. People pay to put their name against their chosen time.
Don't forget too all the other fundraisers you can work around this event. Bring out some of your fete games, run a raffle and make sure you are able to offer refreshments - cheering on your duck is thirsty work and people will want a cup of tea afterwards!
Running the race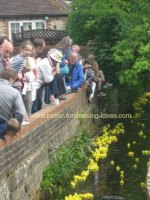 At the start of the race the sponsored ducks are all launched into the local river. It is usual to start at a bridge.
They then float downstream .........

| | |
| --- | --- |
| | Facing all sorts of perils on the way........ |
| | |
| --- | --- |
| Until ...with some final jostling for position..... the finish line is in sight. | |
The duck that crosses the line first wins.
A net needs to be put in place below the finish line to collect up all the also-rans. It is also usual for volunteers to follow the ducks downstream during the race to free any which get caught in reeds etc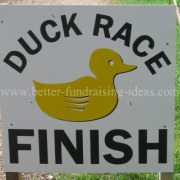 Duck related fete games
Here are some possible duck related fete games:
Hook a duck - The old fairground favourite is a perfect fit. Float a number of rubber ducks, with hooks attached on top, in a pool. Customers use a stick with another hook to "catch" one. The number on the bottom of each indicates what prize if any has been won.
Find the pair - A number of rubber ducks are placed on a table. You could also have laminated cards with pictures of ducks on them. All the ducks have numbers or pictures underneath. Customers choose the 2 ducks they think may be a matching pair. If they are correct they win a prize.
Duck tickets - This is a duck themed variation on a common fete game. A large board has a picture of a duck painted on it. Rows of small holes are drilled in the board and rolled raffle tickets inserted. Customers pick a ticket to see if they have won a prize.
Duck in a bucket / Chuck a duck - From a set distance customers have to throw a rubber duck into a bucket. 3 in a row wins a prize. Set an easier challenge for young kids.
Duck coconut shy - Set this up like a normal coconut shy but with rubber ducks on little platforms. Throw a ball to knock one off its nest and win a prize.
Duck hoopla
- Firmly attach rubber ducks to blocks of wood for a neat variation on hoopla. Attach money with rubber bands to the ducks for any successful hoopings.
Going a step further

Find out how one seaside town took a duck theme to a whole new level.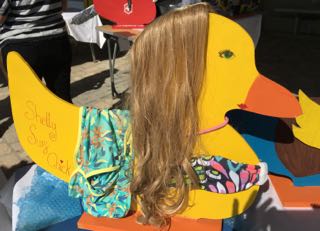 ---
Organising a Rubber Duck Race is a fun and different fundraising idea....................
Hope your event is a quacktastic success!
---
To leave Rubber Duck Race and return to
The Better Fundraising Ideas Home Page please click here