Free Quiz Questions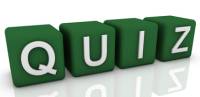 These free quiz questions
Will make running a fundraising quiz night
A piece of cake!

Organising fun quizzes and holding charity quiz nights is a popular way for all sorts of organisation to raise funds.
Its a particularly popular fundraiser with schools, churches and smaller charities.
The important thing for a great evening is getting the questions just right.
Some difficult, some easier, some serious, some funny but all interesting.
Remember this isn't a test its a social event!
Everything you need for the perfect quiz


To make life easy we are pleased to share with you a complete set of fun quiz questions and everything else you need to run a quiz night.
This quiz has been tried and tested and works perfectly for all sorts of groups.
Quiz format

The quiz is 8 rounds of 8 questions split into different categories. There is also an extra round that people work on throughout the evening -

The entire quiz takes about 2 hours. Add in a bit of time for refreshments and a raffle and you have a perfect fundraising event.

Instruction Leaflet - You will need one of these for each team

Blank Answer Sheets - Each team will need one set of these
Extra rounds - if using give each team one of these at the start to work on throughout the quiz.

What's In A Name 
Flags Of The World

Classic Cooking Terms
There are some more ideas for extra rounds on our Pinterest site:
For Quiz Masters:
We have produced 2 great sets of free general knowledge quiz questions suitable for use in either the UK or US please click the version you require.

Questions - USA Quiz 2

What's In A Name? - Answers
Capitals of the World? - Answers
Classic Cooking Terms - Answers

---
---
To leave Free Quiz Questions and return to the
Better Fundraising Ideas Home Page please click here