Angel Festival / AngelFest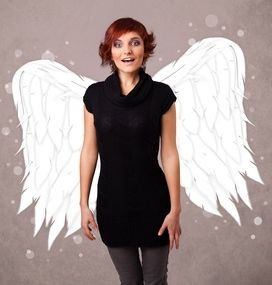 Give your fundraising wings!

An Angel Festival or AngelFest is a great idea for a fundraising event with a difference. An angel theme is perfect for church groups, but also for schools and youth organisations.

An Angel Festival is very similar to a scarecrow festival another community based fundraiser that is becoming increasingly popular. The basic idea is simple - individuals, families or groups produce a life size angel.  These are then displayed at your festival as the central part of an afternoon of other angel themed fundraising ideas.

The Angels

A challenge is issued to members of your organisation or community to produce a life size angel -imagine building a scarecrow with wings! These can range from incredibly arty and sophisticated to novel variations made out of anything that comes to hand. There are lots of ways people can play with the basic idea:
Feathers and silky material
Cardboard and paper
Wood and metal
Junk and salvage
Recycled rubbish
Natural materials - branches, leaves, flowers etc
The only rule is that they should really have wings.
All the angels are erected in a central location. This might be on your local sports field, church yard, playground, village green etc where they form the central display in your festival.
How do you make money?
You can charge a small fee to enter the angel competition. The best way to raise cash and interest, and to have a bit of fun however, is
Spare change voting.
A bucket is placed in front of every angel. People can then vote for their favourites with their spare change. The angel that collects the most change is the winner and proclaimed " King or Queen of the Angels".
Spare change voting is great fun and can get very competitive as people add to the buckets throughout the day. Canny fundraisers will have bags of change available to exchange. That way people can spread their coins amongst a variety of the angels. This works particularly well for families where mums and dads can distribute a nice handful of coins to their kids for some fun choosing. Of course at the end of the event all the money in the buckets goes to your organisation.

Other angel fundraisers.
The angels form the central focus of your festival however there are all sorts of ways that you can add in a range of other angel themed fun:

Angel crafts

| | |
| --- | --- |
| | There are all sorts of angel themed craft items that you can make to sell at your event. This is a simple angel clothes peg decoration. You could also make greeting and Christmas cards. Look on the internet for inspiration. |
Angel fancy dress parade

An angel fancy dress competition is always going to be popular with kids and their parents.

Some of the outfits might be shop bought but you also might like to award prizes for the best home-made outfits

Angel pictures

This - like all the best fundraising ideas- is really simple.

Paint or draw angel wings and halo on to a wall or backcloth. people pay to have a picture taken as an angel.

You may like to have an adult and kids set of wings

Angel fun run

 Santa Runs are increasingly popular fundraisers at Christmas but how about an angel fun run? Charge an entry fee and supply each runner with a pair of fancy dress angel wings. The runners could also be sponsored. The local press would love this one.

2 other variations are an angel cycle ride or an angel football match.

Angel bake sale and refreshments

Never forget the refreshments at any fundraising event.

There are all sorts of neat variations on angel biscuits and cakes you can provide. Serve them with a cup of tea or coffee or in bags to take away

---
There are more ideas for Angel Festivals on our Pinterest Page

---
To leave Angel Festival and return to the
Better Fundraising Ideas Home Page please click here