3 Saints Days With A Difference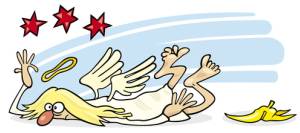 Saints Days can also make great fundraisers

Celebrating particular saints does not have to be stuffy or old fashioned. It doesn't even need to be particularly religious.
Don't forget good fundraising is all about using your imagination and telling good stories. The local press would love these.
3 Saints Days with a difference:
4th April Saint Isidore -
The Patron Saint of The Internet!
Just to show that the geeks and the techies have someone to look after them too. Saint Isidore was a collector and compiler of manuscripts in 6th Century Spain. As there was not a Saint Google The Catholic Church have made him the patron saint of the world wide web.
Saint Isidore's Day. What a great occasion to:
Launch that new school or church web-site.
Sell mousemats with your logo on.
Organise a charity computer fair.
Organise a "Who Can Find The Best You Tube Clip" competition.
Do you have someone who knows their bits from their bytes? What about The St Isodore Workshop where you can go for up to the minute help and advice.
Organise a series of St Isidore workshops for computer newbies. - Computing for The Terrified.
Write a manual for your organisation to sell ?
-How about The Beginners Guide to becoming a Silver Surfer!
There really are all sorts of interesting possibilities for using the internet in your fundraising. There has got to be some money there waiting for your organisation's great fundraiser.
Just look at Bill Gates....apparently he's worth a bob or two these days!
16th April Saint Drogo -
The Patron Saint of The Ugly
Yes poor Saint Drogo had a bit of a hard time of it in the 12th Century. So physically repulsive that he frightened the local townspeople he was imprisoned in a room attached to the church. Food and holy communion being passed to him through a small hole in the wall.
......And kids today think their acne's a real problem!
Oh well at least he ended up with his own Saints Day.
You could celebrate all things ugly in lots of ways.
Ugly Mask Competition? - Who can produce the most grotesque and revolting looking mask.
Gurning Competition. - Gurning is an old custom from the North of England. Contestants take turns to pull their most hideous faces in front of a panel of judges or audience. Traditionally the Gurners would put their head through a horse's halter when pulling their faces. In modern day versions a toilet seat is often used.
The Ugly Bug Ball - Sounds like a perfect excuse for a kid's fundraising party or a dinner dance with a difference for the grown-ups.
11th August Saint Clare of Assisi -
The Patron Saint of Television!
That's right television. St Clare, a good mate of St Francis, founded an order of nuns called The Poor Clares in 1250. In the years before she died she became to ill to attend mass. Instead she would see visions of the services on the walls of her room. A bit like a modern day TV. Due to this she has become the patron saint to telly addicts everywhere!
Fancy Dress Fundraiser - any TV star, any Soap star etc. perfect for school, work, or the social club.
TV Addicts Quiz - The Couch Potato Challenge!
TV Adverts Quiz. People can remember the jingle but what was the product?
The Sound Of Music - If you know a good musician how about a quiz whereby they play well known theme tunes and the audience have to guess the TV show or advertisement that used it.
An Evening of Couch Potato Indulgence-Hire a hall with a big wide screen (many social clubs already have these). Beg steal and borrow as many comfy chairs and sofas as you can. Show videos of classic programmes while plying your guests(for a price) with pizza and other drinks and snacks.
Girls Night In" - Invite your girlfriends round for an evening of slushy films and ice cream. Charge an entrance fee and plump up the cushions on the sofa.
...... Who said fundraising had to be hard work?
---
So Saints Days can allow you lot of scope for great fundraisers.
The three Saints Days above are perhaps exceptionally good ones but with a bit of imagination your crack team of fundraising volunteers really can turn any occasion into a bit of an event!
---
To leave 3 Saints Days With A Difference and return to
The Better Fundraising Ideas Home Page please click here