Unique Fundraisers
How About Some Ferret Racing!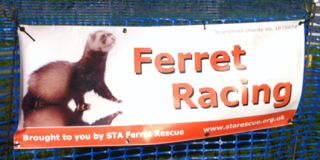 They're off in a flash - To bring in the cash!

If you are looking for really unique fundraisers you could not ask for a more novel fundraising idea than ferret racing.
Ferrets are friendly fun pets. But would you believe it? They make unique fundraisers too.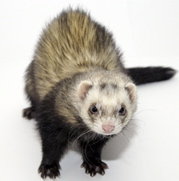 Ferret Racing is one of those novel fundraising ideas that can really add a different dimension to any organisation's fundraising events.
It might not be the best money earner in itself. But it is a great hook around which to base an event where you can get to work with all your other great ideas and unique fundraisers.
Where do you get your racing ferrets?

Its unlikely that you will have access to half a dozen ferrets all trained up and ready to go.
There are however a number of individuals and often ferret welfare groups or ferret owner's clubs who, for a fee, will provide you with everything you need and organise the racing for you.
A quick internet search will soon turn up some ferret fanciers in your local area.
What a novel addition to your Fundraising Contacts book
- Ferret Wrangler!
See our contacts at the bottom of this page

How does ferret racing work?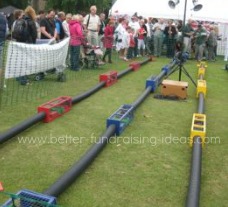 The ferrets race along special drainpipes. These often have various bends, kinks and obstacles included. Many set ups also have clear plastic and see through cage sections to allow the frenzied crowds to check the progress of their favourite.
At the start of the race the ferrets are popped into the pipes and the end blocked up. The ferret master and his helpers will then wait at the other end, often using various ferret friendly inducements, to encourage a quick run through the pipes. The ferrets love it and soon learn that a treat (apparently Marmite on bread soldiers is popular) awaits them at the end of the pipe.
Ferrets are also cute, full of personality and and insatiably curious. There are nearly always amusing incidents and funny occurrences during the course of the races.

Interesting Ferret Fact - Ferrets were used to carry the string lines (later used to pull cables) through pipes in old London for the TV networks during preparations for the filming of the Royal wedding of Charles and Diana.
How do you raise money?

At fetes and fairs - Ferret racing makes a great attraction at any fundraising event such as Summer fetes and fairs. Spectators are able to place simple bets on the ferrets. Extra money can be also be made by kids (or ferret fancying grown ups) having their photo's taken holding the contestants. Taking a ferret for a walk on a lead is another often used way of increasing the take. A lot of the ferret welfare societies have their own little unique fundraisers and will organise all this for you in return for an agreed split of the money.
At a ferret race meeting- Another way to go is to organise a whole evening of ferret racing. This works well for sports clubs and pubs and bars where there is plenty of outside space and plenty of customers / spectators willing to watch the fun. Betting at these races can become more serious. A good way to organise this is to operate a simple totaliser system. See below.
How to run a ferret racing totaliser

This is a simple way to bet on ferret races.
Spectators choose their ferret and pay a fixed amount ie (£1 / $1). They receive a coloured ticket to show who they backed.
The total money placed on each race is added up. A percentage, usually 30 - 50% or a fixed amount per race goes to the charity / good cause.
With a normal totaliser the remainder is shared equally between anyone holding a winning ticket. However as these amounts are likely to be low a better way to do this is all winning bets are marked with the owner's name and go into a draw to scoop the pot for that race.
Alternatively, or as well, all winning tickets through the course of the event go into one big draw at the end for a major prize such as a weekend break, TV or similar. The more winning tickets you have to go into the draw the higher your chance of winning the main prize.
Race sponsorship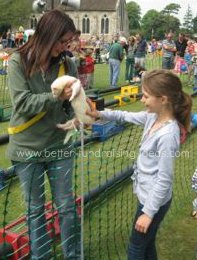 Extra money can also be made by getting local businesses, families or individuals to sponsor individual races. You might for instance end up with the Fred's Fried Fish Shop Derby or the Millhouse Family Stakes.
The tickets of all the spectators who backed the winning ferret going into a hat to be drawn by a representative of the race sponsor, to win a prize or voucher for the sponsor's establishment.
Name that ferret

Giving the ferrets cool names such as Fiery Felix, Roger the Rocket etc adds to the fun and encourages participation.
Other variations on this could be to have the ferrets named after pop stars, soap stars or politicians.
You could also organise a race where the ferrets are "representing' football teams or the local teams who use your club. What true fan could resist supporting the ferret in their team's colours.
If you use your imagination here it can dramatically increase the fun....... and the take!
---
Ferret Racing is one of those unique fundraisers that seems a bit strange but actually has great potential as a novel fundraising idea.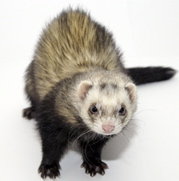 What could be better ?
Fun - Fundraising - Ferrets!
---
---
Ferret Racing Directory

Enquiries about ferret groups in different areas is one of the commonest requests sent in to this website. We can only really tell people to do a Google search for groups in their area.


Any ferret welfare organisation offering ferret racing for fundraising events may advertise here for free. Please send us details we'd love to include you in our directory. All countries and locations welcome.

STA Ferret Rescue - Reading England (will travel up to 50 miles radius of Reading)

---
Click here to leave Unique Fundraisers - Ferret Racing
And return to The Better Fundraising Ideas Home Page