Charity Walks - With A Difference!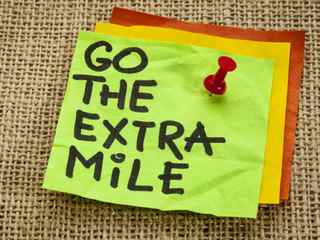 Charity walks have always been a popular way to raise funds.
But how can you make them just that little bit more interesting?

Sponsored walks are one of the easiest fundraisers anyone can organise or take part in. In some ways they are almost too easy ...and therefore a bit too common and unexciting. It has therefore become common to add a theme to a walk.........just to make things a little more interesting.

A Basic Walk

There is nothing wrong with the tried and tested and a basic sponsored walk is always going to be a way to raise funds for any organisation. This can work in 2 different ways:
| | |
| --- | --- |
| 1. Any individual can undertake a solo walk or participate in a group challenge. There are a number of major or well known walks and challenges in most countries ranging from gentle strolls to serious endurance events. Organising some sponsorship to undertake something like this is relatively straightforward. You can even do the whole sponsorship thing online now by using a site such as JustGiving | |
2. If your group were a little more ambitious you could organise your own walk for others to take part in. Its a bit more involved but the returns will be  greater. Its not just about the money of course. Any fundraising event is also always a great way to raise the profile of your group. Walk for Life have produced a great guide that tells you everything you might want to know about organising any kind of walking event. Walk For Life - Guide
Fundraising Events with Eventbrite


All you need to know about using Eventbrite to sell tickets for shows, dances, fun runs, race nights, firework displays and a whole lot more

Hike In Heels

| | |
| --- | --- |
| | This is always a head turner and lots of fun. A group of men are encouraged to don dresses, high heeled shoes and make up and then totter down their local high street. Its amazing how fetching the local rugby or football team can look in short skirts and boob tubes! Its also a great opportunity for bucket rattling as well as sponsorship. End up at a pub or bar where the "ladies" can take the weight off their stillettos and enjoy a nice glass of Chardonnay ..........oh all right then a pint! |
Walkies With The Woofers

Make sure that you give your event a good name.

A few good ones we have come across:

" A Bark in the Park"

"Strut your Mutt"

"Paws in the Park"

"The Whitfield Wagathon!"


You'd be Barking Mad not to!


This is another really popular variation of a charity walk.

People love their dogs and also love showing them off.

Also its a bit different to ask for sponsorship for Rover or Butch.

Who knows your little friend might just raise the most money.
Special Locations

Sometimes where you live can offer all sorts of opportunities for something different.

Local Landmarks
Riverside Rambles
Coastal Paths
Promenade on the Seaside Prom
Church to Church

Special Days

Is there a good day in the calendar that you could take advantage of? Perhaps your school or church is named after a particular Saint. Or how about a Romantic Ramble on Valentines, A Santa Stroll at Christmas or the Leaf Kickers' Hike in Autumn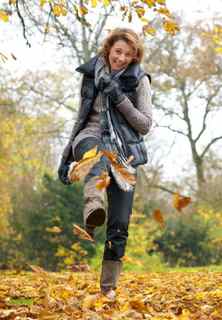 Moonlight and Midnight Walks

| | |
| --- | --- |
| | A perfect fundraiser for those who don't mind a late night. |
Scooters, Skates and Skateboards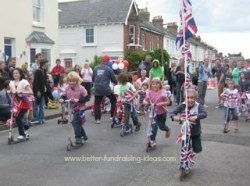 And finally ....here's a way to get the younger generation involved. Flat surfaces required. Even better in fancy dress!

---
To leave Charity Walks With A Difference and return to
The Better Fundraising Ideas Home Page please click here