Simple Fundraising Event
CakeFest!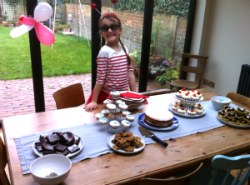 This simple fundraising event is a piece of cake

This simple fundraiser is based on a real life example undertaken by an 8 year old girl who wanted to raise money for Comic Relief in the UK.
So often when we are wondering how to raise money for the good causes, charities and organisations we want to support we can get rather ahead of ourselves. We think that we need to either plan or be part of a big event.
Sometimes that can seem so daunting that we give up before we start and end up doing very little. It really doesn't have to be that way.
CakeFest is a simple fundraising event. It makes a perfect way for children to raise money for charity but can also be used by all sorts of other groups.
The basic idea is to hold an open house afternoon where you invite family and friends to pop in for a cup of tea and cake. Whilst they are there you run a few other simple fundraisers.
Planning a CakeFest is very simple:
Venue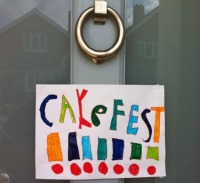 The simplest way to do this is to use your own home or garden. Anywhere really where you can have a few people round, and can make teas and coffees.
You are working on restricted numbers, and hopefully they will not all come at the same time, so, with a little re-adjustment of the furniture, most homes can accommodate this.
It might be that you know someone who has a house more suited than your own which is fine, but one of the strengths of this idea is the personal touch and if you have room your own house is best.
Invitations
Good invitations play a vital part in getting people to come along, understand why they should support you, and let them know what is expected of them.
For a children's fundraiser too the fact that a child has really made an effort to come up with a good idea and invitation will encourage support.
Here are some handy expressions to spark your creative juices:
We're going Cupcake Crazy!
Cupcakes for Good Causes
Changing the world one cake at a time!
Muffin Madness
Are you Bonkers for Brownies?
Its gonna be Teacaketastic!
This event takes the biscuit!
Cookies Cakes and Cuppas
Flapjack Frenzy
Jam Tart Jamboree
Don't forget to also include the date, times, venue and the cause you are supporting.
If you are having an open house make sure that you let people know that they can just come for a short time and aren't expected to stay all afternoon.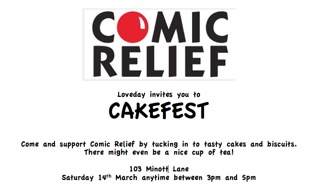 Who to invite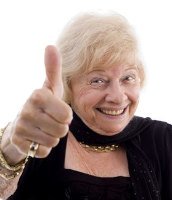 This simple fundraising event has got proud Granny and Grandad written all over it.
Don't forget the rest of the family also - Uncles, Aunts and Cousins of course.
Then there are the friends and neighbours.
Your event needs to appeal to both parents and their children.
Fundraising at your event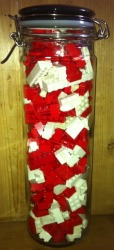 This is a very simple fundraising event and raising money should be kept simple also.
Have a very obvious bowl and small notice on the table for donations for the tea and cakes. You may like to 'seed' this with some cash so people get the idea that they are expected to contribute.
Having a few easy fundraisers based on popular fete games will bring in extra cash. You are likely to be constrained by space so best not too go for anything too elaborate. Guess the Number of Sweets in the Jar or something quirky like lego is perfect.
Treasure Maps and variations on the Golden Egg also work well. If you make these yourself however do take time to do them properly with nice posters and answer sheets etc.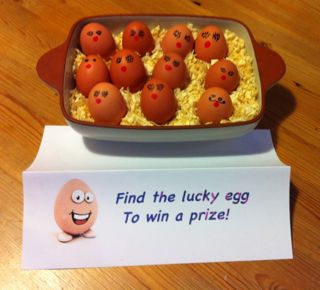 If this is a kids fundraiser try to keep your ideas as lighthearted, personal and cute as possible. Things like guess the weight of the family pet guinea pig / tortoise are fun and simple to do.
Little competitions such as quickest time to eat 20 sultanas / 20 baked beans with a cocktail stick or marble dash - using a spoon to pop marbles through the hole in the base of an upturned flowerpot are simple and fun.
Charge a sensible / affordable fee to take part. Allow a little money for nice, but inexpensive, prizes - bars of chocolate work well, each of your fundraisers only needs one prize.
You may find that it is best not to charge for the games at all. Simply have a main donation bowl on your cake table where a larger donation is made for the entire afternoon to include a free go on any activities.

| | |
| --- | --- |
| | Find Paddington's Jar Of Marmalade |
| Guess how many Maltesers In The Jar | |
Donations

Dont forget to have a very obvious bowl for donations. Pump-prime it by including s few notes of your own just to encourage the folding stuff rather than coins!;)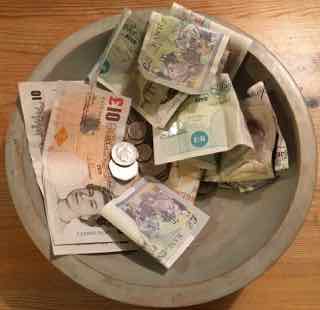 Facts and figures

CakeFest is a simple fundraising event that is perfect for kids. In the example above it cost about £25.00 to put on. This paid for the ingredients for the cakes and simple Fairtrade chocolate bars for prizes.
Along with Grandparents 6 other families came along during the course of 2 hours - most people stayed about 60 minutes.
Adults all enjoyed tea, cake and a chat
Kids and adults all had a go at the fundraisers
Spare cakes were taken in to work and sold the next day
CakeFest 2012 - Money raised for charity £114.73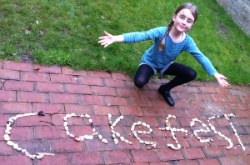 Proud parents 2 - didn't I mention the 8 year old girl who put this on was my own daughter.... Well done Loveday
---
Update Cakefest 2013 - 2015

Cakefest is now a regular event, eagerly anticipated by cake-lovers in our circle of friends and neighbours. As one of them pointed out -
Eat cake V Sponsored walk..............no contest!

CakeFest 2013 - raised £143.11

CakeFest 2014 - raised £140.60
CakeFest 2015 - raised £137.20
CakeFest 2016 - raised £157.70

Cost of 1 mosquito net for kids in Africa paid for by Comic Relief - £2.50

---
To leave Simple Fundraising Event - CakeFest
And return to the Better Fundraising Ideas Home Page Please click here