Simple Fundraising Ideas
For The Office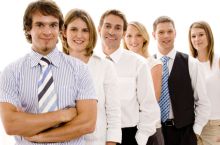 Put a little fun and fundraising into your 9 to 5

Simple fundraising ideas are always the best. You can bring in a surprising amount of money with just a little effort. And where better to start than your place of work? Here are some really easy office fundraising ideas:
Best / worst tie

Charge your colleagues a fee to enter your best or worst tie competition. Offer a decent prize and have the entire office vote at lunchtime. For an extra bit of fun you could have a little fashion show.
Don't restrict this competition to the boys.
Come on Ladies this is your chance to put the chaps to shame!

Cake table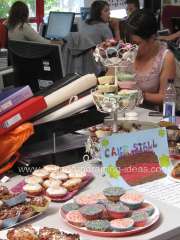 Homemade cakes are always going to be popular with your colleagues.
A bit of baking the night before will see you rake in the cash at coffee- time the next day.
Organise a table in your department or take around a tray of homebaked treats.
Baby photo competition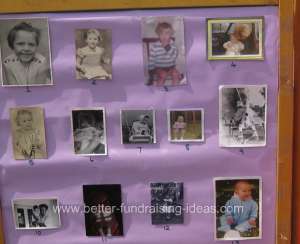 Bet you never realized your boss once looked so cute or that scary lady from accounts was once a giggling beauty!
Get a baby photo from all your colleagues. Scan them and pin them up or circulate a sheet with them all on and charge your friends to match the correct photo to the office character. Prize for the most correct answers.
Eco-fines
Simple fundraising ideas that also help save the planet. Have a system of fines for anyone in the office who:
Fails to turn off lights / fans/ heaters

Leaves their computer on when away from their desk longer than 30 minutes.
Prints unnecessary emails.
Prints but then fails to collect and use what they have printed.
Uses a fresh piece of paper for jotting down messages.
Puts something in their workstation bin that could have gone in the recycling.
Tea and coffee runs

Collect your colleague's tea and coffee all week. Best to agree fixed times and a price for the entire week.
Car park car wash

For really simple fundraising ideas look no further than the car park. There's bound to be someone in the office who wants their hubcaps polishing at lunchtime!

For added value how great it would be if you could get your CEO or Managing Director busy with the shammy leather. For larger companies this could also make a good raffle prize for any internal fundraisers - The boss washing your car. There's a story for the local press there too.

Penny bottle

OK it sounds obvious but having an easily accessible bottle where people can pop any odd change can be a good little earner. Its also a very visual reminder of the good cause you are raising cash for.

Extra large bottles can be obtained by asking nicely in pubs and bars. Office fundraising ideas don't come much easier than this.
Inter-departmental sports matches

Everyone in training for the good of the office! "We can't let the Finance Department beat us can we?"
Inter-departmental fun quiz

This can be really popular. Pick your venue and quizmaster with care. For interesting variations you could have pop quizzes, question of sport, TV trivia - just to give the rest of us a chance!
Office sweepstakes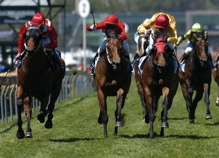 Organise an office sweepstake on any major sporting events that come up. These are always popular - winners scooping a prize and a lot of banter and teasing in store for the person who picks the booby!
No cards - no presents

Agree as an office no cards or presents for birthdays or Christmas. Donate the money saved to your cause.
Come on ladies how many scented candles do you really need? You can always gather round someone's desk and sing Happy Birthday if you are desperate to show you care!
Charity birthday cakes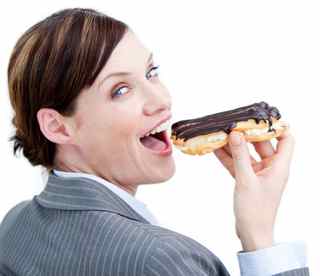 Many offices have a tradition whereby anyone whose birthday it is buys cakes for their colleagues. It is easy to add in a payment for those cakes from your co-workers to the office charity box. Or you could have a tradition where everyone makes a contribution for their cake bu the birthday boy or girl chooses the charity
---
So simple fundraising ideas for the office it is. You'd be surprised how quickly the cash can mount up. Make sure you keep everyone informed how much you raise, where it goes and the good it does.
Back to work now!
---
---
Tell us about your own simple fundraising ideas for the office
---
To leave Simple Fundraising Ideas For The Office and return to
The Better Fundraising Ideas Home Page please click here