Church Hymns As A Fundraiser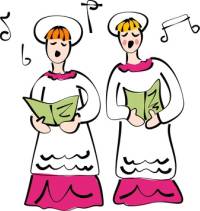 Church hymns can be an easy and fun way to raise funds

Using hymns to aid your church fundraising is a very obvious thing to do.
It can be great fun and add to the sense of community offered by your church, whilst also bringing in some great returns.
The best thing is that it doesn't matter whether you have a choir with voices like angels or a cat's chorus!
There are still loads of ways to raise some money and have a bit of fun at the same time. Just use your imagination!
Here are some ideas to get you started: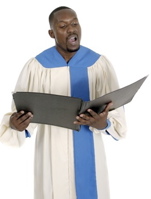 Choral events - An evening recital by your choir or congregation is always popular and can bring in great revenues either through ticket sales or donations. Many congregations also contain talented individual singers or musicians. Persuade them to put their gifts to good use.
Recorded music - Recordings of favourite church hymns are always popular. There are plenty of companies who can offer various deals whereby you retail CD's etc to your congregation.If you have a great choir why not look into making your own recordings. This doesn't have to be complicated or expensive. There are an increasing number of small independent recording and media companies who will be able to advise you. Some entrepreneurial tech-savvy churches are already getting into filming their choirs singing, and even recording whole services for pay to view download.
Produce your own Church Hymn Book - Why not produce a book of church hymns. This really is not complicated and once again many companies specialise in producing this type of fundraising book for organisations. With the majority of hymns being so old there are few problems with copyright. Spending a little time compiling and editing a really nice book specific to your church can be a great project for building your church's community. How about getting individuals or families to sponsor a page containing their favourite church hymn? A nice touch might be to have them write a short paragraph for inclusion in the book explaining why those particular hymn lyrics are special to them. Another popular idea might be to include children's drawings illustrating some of the hymns. If successful the whole idea could also be used for other books for your church: Christmas carols, psalms, even prayers; or maybe a combination of them all.
Sponsor a hymn at a service - This might be a regular feature of particular services or a one off choral event. Letting other congregation members know why a certain hymn's lyrics are special to you all helps build stronger ties with your friends and enhances feelings of community.
Hymnathon / Round the clock hymn singing - For a sponsored event with a difference why not have 12 - 24 hours of choral singing. Organise a simple relay of singers and lay on plenty of throat sweets! During your Hymnathon you can also ask people to sponsor particular hymns in memory of loved ones, or simply because its a favourite.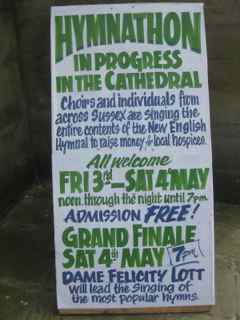 Most popular hymn contest - Organise an evening where your choir sings 10 - 20 hymns to the congregation who all award marks for tune, hymn lyrics, mood etc. At the end total up the scores to find your church's Top Hymn. Alternatively have a voting card given out at previous services calling for suggestions and ask for a small donation to accompany your choice.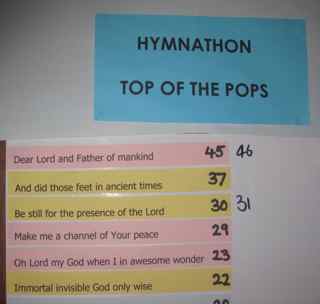 Write a new verse competition - Invite members of your congregation to write new verses for old favourites reflecting their own lives and experiences.
Use hymn lyrics on fundraising products - Use hymn lyrics on posters or tea towels. First lines or first verses of hymns can also look great on T.shirts, mugs, mousemats etc.
As you can see there are loads of ways you can use hymns in your fundraising. What better way could there be to have great social events that build your congregation and community, but also bring in much needed cash?
---
To leave Church Hymns and return to
The Better Fundraising Ideas Home Page please click here.