Firefighter's Charity Climb
It takes a few trips up a firefighter's ladder to reach the summit of Mount Everest. 1770 trips to be precise.
But what a great fundraising event.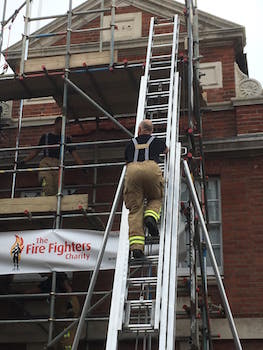 Great fundraising events are all about capturing peoples imagination. These enterprising firefighters in Chichester, a small town in England, certainly know how to do that. Every year they do what they do best and climb the equivalent of Mount Everest all 8,848 metres of it. Coming down's the easy bit they use a fireman's pole

The set up
Teams of firefighters take turns to climb the ladder and slide back down the pole before joining the queue to do it all again.
Along the way members of the public join in (under supervision)

Telling a good story
We're climbing Mount Everest by ladder.
And using a good picture to make it all clear to the public.
Who could resist putting some change in the collecting jars?
For another variation along the same lines check out Kick a Ball to......

Advertising your event
A fire engine, ladders, a dozen firefighters in uniform and a large crowd makes for pretty good adverising on the day.
Dont forget however to alert the local press in advance  and use social media to advertise - especilly if you can link it to an online donation page.
For additional impact you could also try to include any local celebrities or  how about the Lord Mayor climbs the ladder rigged out in his chain of office.

How do you raise money?
You should not forget to set up an online giving page too such as JustGiving - for those who cant be there on the day.
Facts and Figures
Mount Everest is 8,848m high (29,029ft)
1770 trips up the ladder
Just over six hours
Money raised - £2644.25
All money raised was for the Firefighters Charity

---
Well done to Chichester firefighters for their great fundraising event. There are lots of ideas here that lots of other groups could take away.

---
To leave Firefighters Charity Climb and return to the
Better Fundraising Ideas Home Page please click here