Elementary School Fundraisers
Sponsored Silence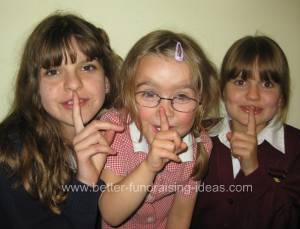 Shhhhhhhhhh!

A sponsored silence is probably one of the most common elementary school fundraisers.
Its easy to organise, easy to understand and is one of the most popular fundraising ideas for schools with the kids themselves.
The teachers and parents seem to enjoy a little peace and quiet too!
Running sponsored silence days could not be easier.
Decide on the rules

Will the silence start before school or perhaps as the bell rings at 9am.
Will answering direct questions from the teacher in class be permitted or will the teachers arrange a day of quiet study.
When will the silence end? At end of school around 3pm or later that day? If away from school will it be taken on trust or monitored.
Decide on a sponsorship form

This can actually form a great lesson in class.
Keep it simple - Its probably best to seek sponsorship for the entire period of silence ie 6 hours, 12 hours etc rather than try to get sponsorship per hour
Keep it fun - Try to make your form entertaining use expressions such as:
The quietist you have ever known class 4C!
Want some peace and quiet? Sponsor us for the day!
Silence is golden but we accept cash and cheques too!
Don't forget to include a little bit about who or what you are raising money for. School fundraisers always work better if there is a clear target to aim for so let people know all about the reason you are after their support.
On the day of your sponsored silence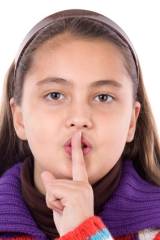 Have A-Boards and posters up to remind people. A motivational talk from the teacher or principal at the beginning is a good idea.
During the day teachers or monitors need to nip any lapses in the silence in the bud. On the whole however the children themselves will enjoy the novelty of a silent day. They also love trying to make themselves understood to their friends only using sign language and notes.
If the whole school or class is not going to take part it is perfectly possible for a section or a few individuals to organise (with the help of a teacher) a sponsored silence for themselves. Beware of other children teasing them however and trying to trick them into speaking.
If the end of the silence will be at school ringing a bell and a little celebration are a nice way to round things off. Alternatively you could have a silent countdown to the loudest SHOUT ever heard at school!
---
A Sponsored Silence is always one of the most popular fundraising ideas for kids and a reasonably easy way to raise money.
Here's how other visitors to this site got on -

Our School Sponsored Silence

Sponsored Silence for Children In Need

Sponsored Silence (A Classic)
So there you are.
Elementary school fundraisers
Can be very simple and quiet affairs.
And they don't come much quieter
Than holding a sponsored silence!
Shhhhhhh!
---
---
To leave Elementary School Fundraisers - Sponsored Silence
And return to The Better Fundraising Ideas Home Page please click here