About Me - Fundraising
How I found a great way to work from home
.....and how you could too!

Hello my name is Neill and I hope you have enjoyed visiting my web-site and found it useful.

Working on my web-site is great fun and has made me friends around the world. Its also become a profitable home business. Here is how I started out -
I grew up in a small village at the foot of the South Downs near Chichester in the South of England. My parents were teachers and I had a great childhood, knocking about with my pals, playing football, building camps all the usual kid stuff.
As we moved from village school to secondary school we discovered music and hanging out, and even managed to pass a few exams when we were 16. Life seemed quite simple.
Even the careers lesson we had in our last term (which consisted of a 10 minute chat with the woodwork teacher) was no hassle. I came out clutching my couple of leaflets, farming and forestry in my case, I must have mentioned that I liked being outside!
Well forestry wasn't too bad. I did like being outside in the woods, and working in a gang of blokes with a lot of mickey taking and banter could be a laugh. You were a bit isolated though and although I've never minded getting my hands dirty, the work wasn't exactly stimulating.
The Weald and Downland Museum
Fortunately I got a job working at a local open air museum. The Weald and Downland museum in Sussex is a unique collection of old buildings, carefully dismantled and re-erected on a beautiful site in the heart of the South Downs.
My job was to run the watermill in the summer and demonstrate old fashioned methods of farming and forestry to visitors.
I loved my time at the museum and was always happiest talking and explaining things to people. I also learned a great deal.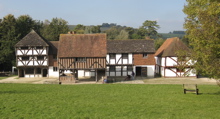 The beautiful Weald and Downland Open Air Museum in Sussex.
I actually helped build the white timber framed building on the left in this picture.


As a member of a small team I was involved in pretty much everything that was going on.
In particular I used to enjoy all the preparations for the major events which the museum put on throughout the year. There was always a great atmosphere of anticipation as we got everything ready: erecting marquees, putting up stalls, arranging show rings, even sorting out the fencing for the car parks it was all good fun. Over the years some of the events the museum put on grew quite big attracting thousands of visitors and I loved being part of it all.
Eventually though it was time to leave. Like many people who are doing a job they really love, the pay packet unfortunately did not allow many of the things I now wanted to do. Like move out of my parent's house, run a car that didn't keep breaking down or even go for a curry with my friends and not having to always choose the cheapest things on the menu. For the first time I started to really wonder what I might actually do with the rest of my life.
Searching for something more
I set up my own gardening business concentrating on hedge-cutting and tree work and although I earned more than before I didn't exactly set the world alight with entrepreneurial zeal - probably because my heart wasn't really in it.
During this time I began to try to discover that 'Holy Grail' that is that elusive thing we were all destined to do.
I tried all sorts of ideas and spent money on countless "get rich quick" rubbish from the back of Exchange and Mart. From fixed odds football betting to mail order kitchen supplies I tried them all. My door to door potato delivery business was probably a low point - but hey at least I was trying!

This was, however, a good time socially and I started to organise small gigs at our local community hall - much to the chagrin of some of my small town residents

"Punk Rockers in Chichester. Whatever next?"

I did like organising things though, and with my brother went on to put on a few small craft fairs too. They didn't make us much money (except for a surprising amount in refreshments - the English like a cup of tea and a cake!) but were always good fun.
Anita Roddick and The Body Shop
Eventually I managed to land another great job as a member of the Campaigns Team at the The Body Shop, whose headquarters were based just along the coast from me.
The Body Shop cosmetics company, founded by the remarkable Anita Roddick ( sadly now deceased ), and her husband Gordon has a long history in campaigning for and offering support to good causes.
I worked on some great campaigns to do with both the Environment and Human Rights. I also helped manage the company's relationship with its local communities and increasingly came in to contact with all sorts of charity and community fundraising groups.
After a while I moved across to the fundraising team of the company's own charity The Body Shop Foundation. Here I was responsible for all sorts of activities including organising fundraising events and programmes. I also continued to act as link to a great many smaller charities and community organisations being supported by The Body Shop.
I was always very proud of our Gifts in Kind programme which saw volunteers from The Body Shop packing boxes full of end of line toiletries and other company goodies, which we sent out to hostels, refuges and shelters throughout the UK.
All this time though I was trying to put my finger on what it was that I wanted to do. Anita Roddick and The Body Shop loved using small punchy slogans, both for their advertising, but also for internal communications. One in particular hit home at this time.
"What will you do with your one wild and precious life?"
This great little saying was both galvanising - we all dream of a life less ordinary! At the same time though it was an impatient wake up call - well what are you going to do?
To be honest I still did not know - and the feeling was starting to really gnaw away at me.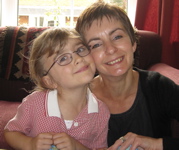 By this time I had 2 more reasons to want to find that special something.

This is my beautiful partner Karen and bright as a button daughter Loveday.

I knew that I was good at certain things but wasn't quite sure if any of them could take me forward.
I also knew that although I liked working with other people I sort of wanted to create something special of my own.
Anita Roddick had created her business from scratch from her kitchen table. She had ended up employing thousands of people around the world. Whilst sticking to her own clear set of principles.
I had no delusions about following in Anita's footsteps, but what was my
Getting made redundant and discovering SBI
Eventually, as I believe happens to a great many people, my hand was forced by changes at The Body Shop leading to me being made redundant.
What now?
I was both worried but exhilarated by the enforced change. Now something would have to happen. Somehow you always expect such moments to be more dramatic than they actually are. A flurry of activity, a new direction a soar-away success within months--- you know the stuff.

The reality of course is that it isn't like that.
What actually happened was that I had some time to start to investigate this wonderful new thing that I had discovered.

There was this company in Canada called
that were showing people how to build their own websites about all sorts of different topics. And more importantly these sites were proving so successful that their owners were able to make money from them without selling a single product. They used this really interesting word to describe these people they called them

Ordinary people with absolutely no knowledge about web design or computers were putting together really great sites about their hobbies, interests or passions. And making a living from them!

I'd love to tell you I was hooked immediately! That I signed up on the spot! ......But of course I didn't.
I dithered and prevaricated and looked at other things but I kept coming back to it. They really did seem genuine. The web-sites (hundreds of them) were all there, up and running and making money. They had a great page of their top 100 sites on topics ranging from electronics to salsa dancing, digital photography to crafts for kids, creole cookery to organic gardening. I spent ages looking at all these sites and started to wonder what I could do.

The other thing that struck me was how proud of their sites these web-site owners were. There was a feeling of accomplishment about the whole thing, you could really feel their enthusiasm.
And so I signed up.... My hand was a bit shaky as I pressed the submit button on the online application form.
What happened next?

......Well you've just been looking at it haven't you!
My very own website www.better-fundraising-ideas.com - Its not perfect but its getting there.
Will it change? - Of course it will. I change bits and tweak the pages all the time.
Will it get bigger? - I hope so I'm adding new stuff all the time and people are starting to send their own ideas in.
Am I making any money? - Oh yes. Three years on and working part time I am now earning a good full time wage and as my site grows so does my income, slowly but steadily. Many others too are also making a full time or part time living from their web-sites.
Could you do it too? - Of course you could
Really?.........Yes!

Please click here and I will show you
How you too could work from home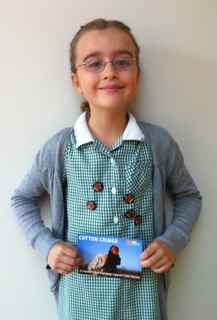 Before you do though think about this.
I walk my little girl to school every morning. There is no rush, no hassle and no big race to get on to work.

I come back to my kitchen table and work from home on my web-site. I have the radio on and a cup of tea on the go all day.

At 3pm I go and pick her up from school.
If her mum is home we go together.
| | |
| --- | --- |
| I think I have found what I was looking for! | |