Fantastic Fundraising Ideas Using Kids Bikes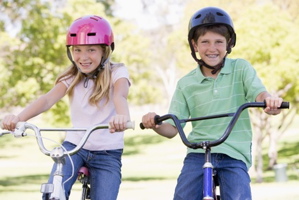 Time to get on your bike
These fundraising ideas are "wheelie" great!

Competitions and activities using kids bikes are a great way to boost the fun factor at any fundraising event, fete or summer fair.
They are pretty straightforward to run and manage. Also kids love them, as they are easy to understand and take part in; and of course it allows you to bring your own bike along and generally be important!
Don't forget all of these ideas can easily be adapted for younger children with smaller bikes, trikes and scooters.
---
Decorated bike competition

This is a simple but really popular competition. The kids pay an entry fee and decorate their bikes, trikes or scooters in advance at home.
Usually this involves twirling ribbons and streamers on them. Or tying on interesting bits and pieces.
Perhaps using tin foil to make a rocket bike etc etc. Anything to impress the judges or general public who can vote for their favourite.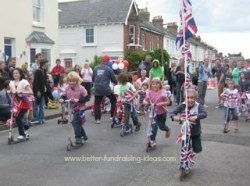 What better way to start  your fundraising event than with a decorated scooter parade!

---
Kids bike relay

A normal cycle race would be too dull. And difficult to manage space wise if you had a lot of competitors.

Instead split the competitors into teams. As each one completes a set course they hand a sash / cycle helmet / coloured jacket to the next member of their team. Who then sets off and does the same. The first team to get all members home is the winner.
---
Bicycle obstacle race

Kids bikes being smaller are great for obstacle races. Kids love the novelty of the various challenges. Kids can use their own bikes or have a standard bike that they all must use (you might have to have a few different sizes).
A course is set up involving various cycle challenges. These can be straightforward- cycle in and out of cones, around some sharp corners, along a painted line etc.Now its time for a bit of imagination. What interesting little bits can you add in? How about:
Jump off the bike and climb through a hula hoop.

 Jump off and throw 3 bean bags in a bucket (you cant go on until you get three in).

Pop a balloon tied in the tree above you (provide a stick with a drawing pin on the end, put some small pieces of paper in the balloon - they come down like snowflakes when it bursts).

Jump off, climb a ladder and ring a bell.
Cycle along a scaffold board (on the ground of course) without wobbling off.

Off the bike and crawl under a tarpaulin and out the other side.
 Back on the bike and mad dash to the finish line.
As you can see you can add in anything you can think of.

Competitors pay a fee and are timed around the course. Times are entered on a large scoreboard. Some kids will go several times trying to improve their score and beat their friends. At the end of the event the winner is announced, a prizes awarded, certificates handed out etc.
---
Round the world bike race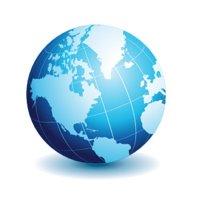 This is another timed race. Different countries are set up around the field (A simple name card on a stick will suffice).A bag or basket is attached to the kids bikes. The countries names are written on pieces of card and placed in a hat.

When the competitor is ready the marshal pulls the first country from the hat. The competitor cycles there and brings home (back to the starting position )a keepsake appropriate to that country. They must then go to the next country drawn from the hat and do the same. This is repeated until they have been all the way around the world.

Below are some suggestions for tourist keepsakes but you can make up any for any country you choose.
France -  A baguette
England -  A crown

Italy -  A packet of spaghetti.

Mexico -  A sombrero

S.Africa -  A stuffed toy lion

S.Pole  -  A stuffed toy penguin
USA -  A cowboy hat,
---
Dad on kids bike race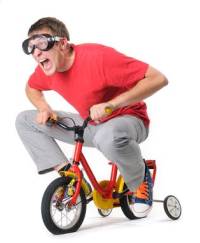 Pretty straightforward this one.
All the Dads (or Mums) line up on their kids bikes for this classic challenge.
The whistle blows and... They're Off!
Well sort of and usually very slowly.
With lots of wobbling and general argy bargy!

Watch out for cheating - you know how competitive these grown ups can get!
---
Toddlers trike derby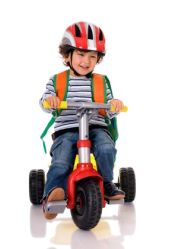 Picture the scene. A row of trikes on the starting line.Their young riders poised ready to go. Anticipation fills the air.
A quick pit stop while someone's seat straps are adjusted. Anxious Mums line up behind ready to give a push in the right direction.
The flag drops. Away they go! Pandemonium. Ladies and Gentlemen you are clearly watching a race of future champions!

To the winner the victors spoils -The Toddler Trike Trophy!
---
Slow bicycle race

This is really easy. Competitors line up on their bikes.The whistle blows and everyone heads for the finishing line as slowly as possible!

The only rule is put your foot on the ground and you are out!
As competitors wobble their way slowly up the course marshals check to see there are no toes touching!

The winner is the last person to cross the line!
---
---
To leave Kids Bikes and return to
The Better Fundraising Ideas Home Page please click here.