Chocolate Melt In The Middle Cup-Cakes

(Stamford Park)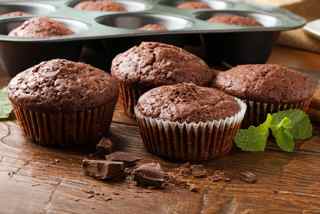 Ingredients
Makes: 24 cupcakes

260g plain flour
65g unsalted butter
115g cocoa powder
450g caster sugar
3 eggs

375ml milk
1/2 teaspoon bicarbonate of soda
3 teaspoons baking powder
1 teaspoon vanilla extract
24 squares milk chocolate

Method
Prep:15min › Cook:15min › Ready in:30min

Preheat the oven to 180 C / Gas 4. Line a muffin tray with cases.

1. Sift together the flour, cocoa powder, bicarbonate of soda and baking powder.
2. In a different large bowl, cream the butter and sugar until light.
3. Add the eggs gradually then stir in the vanilla.
4. Add the flour mixture and milk alternately, then stir well.
5. Half fill the muffin cases, the put one square of chocolate in.
6. Top up the mixture until case is bout 3/4 full.
7. Bake for around 15 minutes.



These variations on chocolate cupcakes are a great idea. You would need to advertise that there was a nice little surprise in the middle. As with all chocolate please try to use Fairtrade chocolate and cocoa powder to make sure that you are not buying products harvested by children. Thanks for sharing

Join in and write your own page! It's easy to do. How? Simply click here to return to Send Us Your Bake Sale Recipes.