Cheerleading Fundraising Party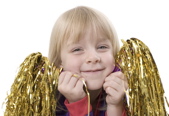 Cheerleading Fundraising Ideas
Offering Kid's Cheerleading Birthday Parties
To run a full Kid's Cheerleading Party is really a fundraiser for the more senior squad members. There is no reason however that younger cheerleaders should not do smaller fun sessions at the parties of friends and family.


What you need: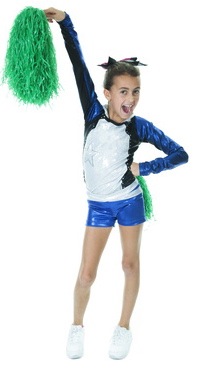 Your cheerleading uniform - This is essential. The party girl has been promised a cheerleader and you must deliver. It also gives you a professional look even if you are quaking inside!
A stereo or portable boom box - This may be available at the party venue anyway. Beware however if you make up your own CD compilations that not all players will work with discs generated on your computer
Pom Poms- You need to have enough for each child to have a pair
A whistle - Its easy for things to get out of hand. Don't forget you are in charge - now you know what your coach has to put up with!.
A plan - This is really important. Do not think you can wing it. Plan out exactly what you are going to get the girls to do. Be flexible, have some back up ideas and think about how long each section of your party session will take. A total of one hour is perfect for 4-11 year olds.
A finale - You need to end up with one good finished routine, possibly something that the girls can perform to parents and other guests. All your routines should work towards this.
A good attitude and happy smile - Don't forget its someone's birthday. Be enthusiastic and make the party girl's day.

A party icebreaker - Design your own cheerleading uniform
A great icebreaker at the start of parties while you are waiting for guests to arrive is to give all the girls a picture of a cheerleeader to colour in for a "Design your own cheerleading uniform" competition.

The winner to be judged by yourself and the Birthday Girl's Mum, Gran or other family member.

Tip - There are lots of cheerleading clip art sites on the internet for downloading printables

Introduce yourself
This is it. Deep breath. Stand at the front and say
" Hi I'm -----------. Well its ----------- birthday party and we're gonna have some fun. I'm a cheerleader from the ----------- cheer squad and today I'm going to teach you some neat routines so you can all be cheerleaders too!

Plan your cheerleading routines
The routines and little practice cheerleading chants and cheers you put together should be simple and easily taught.

 Remember what you did when you first started training. Have a word with your squad coach they will probably have some good ideas and suggestions.

 To be honest the young girls will be perfectly happy all holding pom poms watching you 'a real life cheerleader' tell them what to do. A few simple jumps and a bit of razzle dazzle will make them feel really special.
But the most important thing is to plan out what you will do in advance and write it down on a list.

Plan some special cheerleading chants and cheers
A good idea is to have a cheer that includes the name of each member of the party squad in turn. You need to come up with a simple chant that will allow you to do this - whatever party you are at.

 Similarly when building towards your big finale piece you should try to build something around the name of the Birthday Girl.

Advertising your services

Use the usual flyers and posters.

Often fancy dress and party shops have a board upon which children's party entertainer's advertise.

 You could also try to approach the local infant or junior school - perhaps you could offer a free after-school taster session after which you hand out your flyers.

At a party you can also ask the Birthday Girl's parents to include a flyer in the party bags the kids often take home.

Its also a novel cheerleading fundraising idea and you may find that you can get the local press interested in doing a feature.

Pricing
A good bench mark is to find out what other children's entertainers in the local area are charging. An hour of cheerleading is worth an hour of puppets or magic any day of the week!

You may also be able to make a bit extra by selling cheerleading party favours or cheerleading hair bows and party bags to the Birthday Girl's parents in advance.

Always make sure that the host knows you are fundraising for the squad and not yourself.

---
Offering a Kid's Cheerleading Party is a great cheerleading fundraising idea.
Its good fun. It gets you out there doing what you know best.
And, best of all, you can raise some good cash for your squad.

---
To leave Cheerleading Fundraising Idea - Kid's Cheerleading Party
And return to The Better Fundraising Ideas Home Page Please click here