Cheerleading Fundraising
Christmas Gift Wrapping Service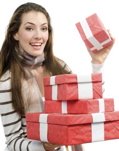 Time to get your Christmas Fundraising all wrapped up

Christmas is always such a rush but don't be tempted to put your cheerleading fundraising on hold for the festive period. There are actually great fundraising opportunities to be had.
A Christmas Present Gift Wrap Station is a seasonal fundraiser perhaps, but one that can easily become part of your annual fundraising programme.
Amongst the hustle and bustle in the run up to Christmas there is always a place for a team of girls prepared to get themselves out there and raise funds for their squad.
Offering a Gift Wrapping Service will be popular, earn you some cash and is a great way to have a bit of Christmas fun whilst at the same time promoting your club or team.
Get your cheerleading uniforms on, get out there and find a great spot.

There are lots of places you can set up your gift wrapping station.
On the High Street its worth asking in shopping malls, arcades, department stores. If the location is not too far out of the way you could also try local town halls or community centres.
If you were prepared to wrap up warm you can always set up in the street - it might be a bit cold but you are guaranteed to attract attention.
What you need for your fundraiser


You should be able to find all the equipment you need at home:
Tables - camping or decorating tables are ideal or see if you can borrow fold up tables from your local church hall
Scissors - Several pairs are needed
Tape dispensers
Coloured pens
Portable stereo - a bit of Christmas music helps set the mood
You also need the wrapping bits and pieces. Buy carefully and in bulk. Make sure you do your sums. There is no point in wrapping something beautifully if it cost you more than you make. You will need:
Wrapping paper
Tissue paper
Ribbon
Rosettes
Raffia and fancy string
Gift tags
Pricing
Set a clear pricing structure. You may wish to base this on size of present. Alternatively you could suggest a certain donation for different services.
It may be possible to offer discounts for bulk ie 5 gifts wrapped for the price of 4 etc
Make sure you have some nice clear signs up to let people know-
Who you are
What you are doing
What it costs
Attracting Customers


You want to make a bit of a show. This will attract customers and also promote your squad. Fortunately cheerleaders are not generally shrinking violets!
Wearing your cheerleading uniforms is definitely a good move. Performing a few cheerleading stunts and running through some Christmas Cheerleading Chants and Cheers (try saying that with a mouth full of mince pie!) will attract attention to your Gift Wrap Station. It also makes the day more fun. Cheerleading fundraising does not have to be a drag.
Wrapping the gifts

The world is divided into 2 types of people-
People who can wrap presents.....and........ people who can't!
If you are one of those who can't then put the sticky tape down! No-one is going to pay for a dog's dinner. If you are all fingers and thumbs then stick to attracting customers and taking the money!
---
A Christmas Gift Wrapping Service will earn you some much needed cash. It can also be a lot of fun.
When it comes to Cheerleading Fundraising Ideas at Christmas
The best squads have got it all wrapped up!
---
---
To leave Cheerleading Fundraising - Gift Wrapping Service
And return to The Better Fundraising Ideas Home Page please click here