Cheerleading Fundraisers
10 Rules For Success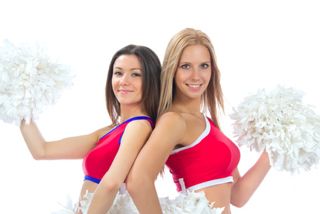 Simple tips to make your fundraising tip top!
Cheerleading fundraisers are an important part of being a team member and should be part and parcel of being involved with a squad. There are all sorts of different cheer squad fundraising ideas you can try but following a few simple guidelines will make these much more fun, much more popular, and much more likely to be successful!
Fundraisers - 10 simple rules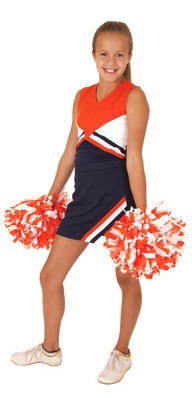 Always try to wear your cheerleading uniforms
You look great when you are in your gear. It lets everyone know who you are and that there is something special going on. It also helps you think and work as a team. Also always try to wear an enthusiastic smile- Nothing gets people on side more than a nice smile and who is going to give money or spend money with a moody, scowling girl?
Tip off the press
A little media coverage never did anyone any harm and a colour picture of your squad selling calendars or working some cheerleading stunts outside the store you are doing a promotion for is just what the editor of the local paper could be looking for.
Always make sure that the entire squad are involved in fundraising
Your cheerleading fundraising should always involve everyone not just one or two volunteers. Taking part in fundraising activities is part of being a member of the squad.
Work together
Ok maybe not the full squad for everything, but a team will help you:

Generate the wow factor.
Help you overcome any embarrassment
Provide the impetus to keep going.

Its also a lot more fun working with your friends.
Try to come up with a fundraiser that will use your cheerleading skills
It is after all your point of difference. Promotions, marketing, sales etc are where its at. Bring a bit of cheerleading razzle dazzle to the market and look for opportunities where you could offer something a bit special.
Incorporate your fundraising into your cheerleading practice
You will actually have great fun trying to come up with cheerleading chants and cheers that incorporate the name of the local supermarket or that advertise your calendar or scratchcards. If you are promoting a company they too will love it and believe that they are getting value for money.
Have club leaflets and flyers easily to hand
Recruit new members while you raise money - Cheerleading fundraisers are a great way to get out there and promote the club.

Incentivise your squad
Recognise the achievements and successes of any squad members who make a particular effort with fundraising. It can also spur a little friendly competition. Little trophies, bunches of flowers or even a round of applause at training can always make people feel appreciated and special. Another common incentive is a forfeit for the squad coach should you raise a certain amount. There is something curiously motivating about knowing the coach will face a dip in the lake or gunk tank if you hit a target!
Announce your totals at squad practice and in your newsletter
This celebrates the success of a fundraiser but also reminds everyone how important fundraising is. Particularly if the total raised is directly linked to squad expenses.
Have fun
Keep your cheerleading fundraisers fun and you will have enthusiastic volunteers, happy punters and end up raising a lot more cash.
---
---

To leave Cheerleading Fundraisers - 10 Rules for Success
And return to The Better Fundraising Ideas Home Page
Please click here