Your Christmas Fundraising Ideas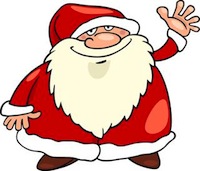 What better gift than sharing your Christmas Fundraising Ideas
With charity groups all around the world

Well they say Christmas is the time for sharing and giving. So how about passing on those ideas for Christmas Fundraisers that work for your group. Nothing is too basic, many of the people using this website are totally new to fundraising; that is why they visit this site. Any ideas, tips and advice you can offer really can make a difference

We love to hear your fundraisers and really appreciate it when people send them in.
Golden Crackers which features as an idea on our Christmas pages was originally sent in by a visitor to this site. It is now used by groups everywhere and is really popular at school and church Christmas fairs. Groups write in to say thanks for the tip and tell us how it worked at their event.
Another interesting one was the Christmas tree recycling scheme set up by a Community Green Group. This too has been copied by groups everywhere.

It just goes to show very simple ideas are often the most succesful! All you have to do is send us the details.
Send us your great Christmas Fundraisers via the form below.
We are interested in anything you did:
Big Christmas Fundraising Events
A neat Christmas craft product
An idea for a stall at a Christmas Fair
A community fundraiser that really works for your group at Christmas.
All the best ideas will be added to this web-site and help other groups and organisations all around the world.
Do you know a great Christmas Fundraiser?
Tell us all about it using the simple form below-
---

To return to Christmas Fundraisers please click here

To return to Fundraising Ideas For Christmas Fairs please click here

To leave Your Christmas Fundraising Ideas and return to
The Better Fundraising Ideas Home Page please click here