Hi and welcome to Better Fundraiser - Issue Number 6
The ezine from www.better-fundraising-ideas.com we hope you will find it interesting and useful.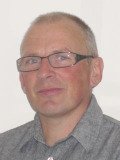 We hope that you all had a wonderful festive season and fun time with family and friends. We also hope that the charity groups, schools and churches that you support were also able to find new and interesting ways to raise much needed funds.

Personally I tried out a great fundraising idea at my daughter's school Christmas Fair called Golden Cracker. This was a neat idea that was sent in to the website last year. Basically you insert golden tickets into a number of cheap crackers. Kids buy a cracker, pull it with a mate or the stallholder and keep whatever is inside. Every so often one of the crackers reveals a golden ticket which wins an extra prize. It was a great success and the kids loved buying and pulling the crackers. We quickly sold 200 crackers at 30 pence each. Lots of noisy fun and something a bit different that most people hadn't seen before.

Neill Wilkins
www.better-fundraising-ideas.com
---
New Look For The Website

Regular visitors to the website will have noticed our smashing new look. The site has been running for nearly 4 years and in that time has grown to be pretty much the biggest site for fundraising ideas there is. We are used by groups and individuals all over the world and are considered a really useful resource by many fundraisers.

Whilst offering great advice and ideas we have always tried to have a fun and friendly feel about our pages. Successful fundraising should always be about having as much fun as possible. We have therefore had a bit of a makeover to reflect that. We rather like out little man (remind you of anyone?) and have plans to use him a bit more on the pages as well as in the top header to call out top tips, warnings and particularly good ideas.

Nothing else about the site will change though - we will continue to offer great advice to everyone and share ideas sent in from all around the world.
---
Celebrating Success - The Best Way To Keep It Coming!
In our busy lives fundraising can sometimes be so time consuming that there is a great temptation that on completion of a successful fundraiser or event to simply sit back, heave a sigh of relief and (hopefully) count the cash. It shouldn't stop there however. A vital part of the process is to announce the results. This is often combined with a thank you to those who helped or spent their hard earned cash at your event.

So often groups do not make enough of this. A quick note in the church newsletter or parent - teacher email is often all that can be found, even of some really successful fundraisers. Not only is this a poor thank you for peoples' hard work, it fails to squeeze the maximum juice out of your fundraiser. A successful event is a great way to raise the profile of your organisation. Its also a key way to attract new supporters and help in the future; people like to be part of success stories.

Always try to look for neat, new or novel ways to spread the good news of a successful event. This could be as simple as an A board in the school playground, a round of applause in church led by the clergyman or even a nice little You Tube video on your organisation's website.

If you send a press release to the local media make sure that you include all the details, not just of your successful fundraiser, but also how the money raised will be used and what your organisation does.

People really do like to feel that their efforts were appreciated and remind themselves how they feel about the good work you do. Make sure you shout your successes from the rooftops.
Have You Visited Our Facebook Page
We are very pleased that we now have our own Facebook page. If you are a Facebooker please visit our page and don't forget to "like" us while you are there and share with your friends.

To be honest I am a bit new to Facebook but we are slowly getting the hang of it. We are trying to make a point of only posting really useful, funny or interesting stuff. Hopefully people will start interacting more with the page and also with the main website. The Facebook analytics show us that tons of people out their are listing PTA, Church and Charity work as being really important to them so hopefully our Facebook page will prove a popular stopping off point for conversations and sharing information.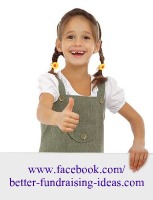 ---
Are You Planning Some Valentine Fundraisers?
St Valentines Day falls on February 14th. While everyone's thoughts turn to love and romance crack fundraising teams up and down the land are planning how they can use the celebrations to raise some much needed funds.

Valentine Fundraising Ideas can be simple - Why not bake some heart shaped cookies for the office? To far more involved - Organising a Valentine Ball. Either way Valentines is a great way to remind people about your organisation and the work it does and……raise a little cash. Have a great Valentines day and if you put on any good events or see any neat fundraising ideas do let us know all about it.

Check out our page of great Valentine Fundraising Ideas
---
Bake Sale Favourites: Valentine Cupcakes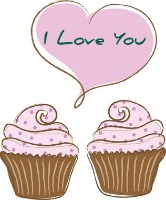 A Valentine twist for the the bake sale recipe this time. These cute cupcakes will melt any heart and could help raise funds for the good cause you love.

Ingredients:
110g unsalted butter (at room temperature)
225g caster sugar (fair-trade is always best)
2 large free range eggs
150g self raising flour
125g plain flour (sifted)
1/2 teaspoon rosewater
120ml semi-skimmed milk (at room temperature)
For the buttercream icing:
115g unsalted butter (at room temperature)
4 tablespoons semi-skimmed milk (at room temperature)
1 teaspoon vanilla extract
500g icing sugar (sifted)
1/2 teaspoon rosewater
pink food colouring
In a large mixing bowl (or food processor) cream the butter and sugar until smooth. Add the eggs one after the other mixing in well.
In a separate bowl combine the 2 flours
In a jug mix the rosewater and milk. Rosewater varies in strength so be careful not to overwhelm the mixture by adding a few drops at a time and testing.
Slowly add small amounts of the milk mixture and the flour mixture to the creamed ingredients and beat in well until all the ingredients are used up and you are left with a nice smooth mixture.
Place paper cup-cake-cases in a muffin tin and spoon in a dollop of mixture to each one. (fill each case to about 2/3 full)
Bake in the oven for about 25 minutes unties slightly raised up and golden brown. A handy way to check they are cooked through is to insert a small skewer into the centre of one of the cakes. If ready the skewer will come out clean.
Leave to cool slightly in the muffin tin before transferring to a wire cooling rack.
Once cool ice with the buttercream.
Add Valentine decorations. You can buy small sugar hearts and things from cake supply shops, sweet shops and online. The popular children's sweets "Lovehearts" also make a great fun decoration
To make buttercream:
In a large mixing bowl beat the butter, milk, vanilla extract and half the icing sugar. Continue to beat until smooth, this can take a few minutes. Gradually beat in the remainder of the icing sugar until the buttercream is smooth and creamy. Add the rosewater and food colouring at the end and thoroughly mix in.

Do you have a bake sale favourite?

Send the recipe in to us and we will try to include it either on the web site or in a future edition of Better Fundraiser.
---
Send Us Your Ideas
We really do love hearing about good little fundraising ideas and love to add the best to the site. Our site statistics show us that lots of our visitors enjoy reading these ideas sent in by readers too.

So if you have a good fundraising idea either that you have seen somewhere or done yourself please send it in.

Don't forget to include all the details of your idea. Lots of the people who visit our site are looking for ideas because they are "newbies" who suddenly find themselves on the fundraising committee of their school, church or local charity. They want all the details experienced "old hands" like yourselves can give them.

Of particular use are the little tips and wrinkles that make an idea (even a well known one) work that little be better. So please don't be shy. Your idea could end up helping a fundraiser the other side of the world. You can read other peoples ideas and send us your own (and photos if you have them) at this link. Your Ideas
---
Take Care and we hope you continue to have a great year of fundraising success.